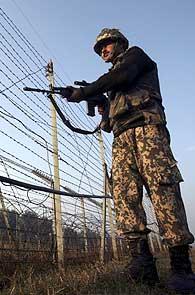 Early on Tuesday morning Pakistani soldiers attacked a post in the Poonch sector along the Line of Control, killing five Indian soldiers.

Prem Nath Singh, Shambhu Saran Ray, Vyay Kumar Ray, Raghunandan Prasad and Pundalik Mane from the 21 Bihar Regiment were martyred while on a patrol.

There have been several incidents of violations and firing by Pakistan troops last month alone, particularly in the Jammu region.

Retired Lieutenant General D B Shekatkar, PVSM, AVSM, VSM, who served five years as a commander on the Line of Control, says the government should give authority to the troops on the LOC to take immediate retaliatory punitive action against such violations.

These incidents don't take place in isolation. The magnitude of the incidents shows that it is not done on the instruction of junior officers on the Pakistani side of the Line of Controlm but is well planned and coordinated at the top level.

Why they have chosen this time is because United Nations Secretary General Ban Ki-moon is going to be visiting Pakistan next week and Pakistan wants to rake up the Kashmir issue to get international recognition.

There have been increased incidents in the Poonch and Rajouri sector and these are not isolated cases. There is a pattern that is emerging – which is to keep the Kashmir Valley, Baramullah, Kupwara etc, deliberately dormant so that it can be used for infiltration; while keep the Jammu region active.

That is why we have seen attacks on the Border Security Force and army posts in the Jammu region in the last few months.
The government fails to understand and see this pattern.
The Line of Control is being kept active and under pressure both by Pakistan and China. We have seen the intrusions taking place in the Ladakh sector bordering Pakistan occupied Kashmir and the Siachen glacier.
The government should give authority to troops on the LoC to take immediate retaliatory punitive action against such violations.
Unfortunately, the government does not have the political will to take hard decisions. In 2011, our prime minister called then Pakistan prime minister Yousuf Raza Gilani a messenger of peace and the same Gilani was PM when terrorists struck Mumbai in 2008!
Recent events also indicate that the Pakistan army has outsourced terrorism and trans-border operations to terrorist organisations. A disciplined army will not go to the extent of beheading a soldier (
the horrific incident took place on January 8 in the Poonch sector
).
Such brutality is the hallmark of terrorist activity. The political or the army leadership does not accept what impact such acts of brutality have on the mind of the Indian soldier.
The central government is totally in election mode and is more concerned about pleasing the people.
Pakistan also understands that India is incapable of taking hard decisions and is not in a position to take punitive action against such violations.
The enemy understands the language of power. You must take action against those outposts that destroys our outposts.
Image: A Border Security Force soldier patrols the fenced border with Pakistan in Suchetgarh, southwest of Jammu, January 11, 2013. Photograph: Mukesh Gupta/ ReutersAs told to Archana Masih