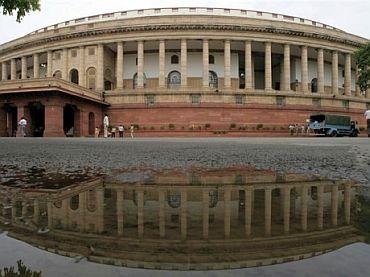 Uproar over the killing of five Indian soldiers on the Line of Control in Jammu and Kashmir by Pakistani troops on Tuesday led to adjournment of Parliament until noon. The Telangana issue also figured in both Lok Sabha and Rajya Sabha for the second day.
As soon as Lok Sabha assembled for the day, Samajwadi Party members rushed to the Well raising the issue of attack on an Indian post by Pakistani soldiers. Simultaneously, some Congress members, who support a 'united' Andhra Pradesh, raised slogans seeking justice.
Bharatiya Janata Party members, who did not leave their seats, also shouted slogans protesting the killing of Indian soldiers. SP supremo Mulayam Singh Yadav and party Member of Parliament Shailendra Kumar had moved an adjournment motion on the issue.
Amid pandemonium, the House could not take up Question Hour and the proceedings were adjourned till noon. Similar scenes were witnessed in the Rajya Sabha where opposition members, including those from the BJP, the SP and the Bahujan Samaj Party demanded a reply from the Prime Minister saying the killing of Indian soldiers was a "very serious" issue.
The uproar over the attack led to an ugly spat between Naresh Agarwal (SP) and Congress member Mani Shakar Aiyar forcing Chairman Hamid Ansari to adjourn the House till noon. Pakistani troops intruded into the Indian territory and attacked Sarla post along the LoC in Poonch sector in Jammu and Kashmir late last night.
Soon after Chairman Hamid Ansari read out a message congratulating junior Indian women's hockey team for winning brozen medal in Germany, the entire opposition was up on its feet protesting the killing of Indian soldiers.
Raising the issue, Agarwal (SP) said while Indian soldiers were being killed on Pakistan border, China was not allowing India to patrol its border.
Ravi Shankar Prasad (BJP) asked how many soldiers would be sacrificed before the government woke up. "The government of India should be serious about security," he said, adding his party wanted Prime Minister Manmohan Singh to come and make a statement.
Minister of State for Parliamentary Affairs Rajeev Shukla said the matter was very sensitive and government took it very seriously. "We will ask defence minister to come and make a statement," he said.
"We are also concerned (about the incident)," Shukla said, adding, "This is a matter concerning defence ministry (and so) a statement will come from the defence minister. Leader of the Opposition Arun Jaitley said the issue had defence, security and foreign policy implications and so the minister making a statement should be prepared to take question on all the three aspects, especially foreign policy implications.
"Therefore, members feel the prime minister should make a statement. That will be more appropriate," he said. Sitaram Yechuri (Communist Party of India-Marxist) said the minister making the statement should also be able to take questions on the issue.
When Ansari wanted Question Hour to be taken up, Agarwal said the question hour was not important as this issue was more important. Shukla then said, "We have expressed concern (over the incident). This is a serious issue, a very sensitive issue."
When Ansari asked if it was the wish of the House to dispense with the question hour, the treasury benches shouted "no" in chorus. Former Petroleum Minister Mani Shankar Aiyar (Congress) said there were equally serious issues concerning rise in natural gas prices listed for the Question Hour and asked SP members if they were not concerned about increase in gas prices.
To this, Agarwal made an insinuation against Aiyar which Ansari immediately expunged. "How dare you call me that," Aiyar said, as he charged towards Agarwal. Aiyar was, however, stopped by other members.
Former Law Minister Ashwani Kumar too said Agarwal should not have made such objectionable remarks. "Aap ney itni badi baat kaisey kahi (how could you say such a big thing)," he asked.
Sensing the mood of the members, Ansari adjourned the House till noon. After the House was adjourned, some MPs including D Raja (CPI) appeared to be telling Agarwal that his remarks against Aiyar were not Parliamentary.