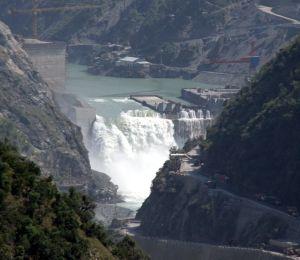 Pakistan has raised objections to four power projects being built by India on the Chenab river on the ground that they allegedly violate the Indus Waters Treaty.
The projects include the 850-MW Ratle power project and the 1,000-MW Pakal Dul hydroelectric plant, Minister of State for Privatisation Khurram Dastgir told the National Assembly or lower house of parliament.
Information on these plants was received by Pakistan last year and Islamabad objected to their designs, he said during question hour on Monday.
Pakistan has raised the issue with India at all levels. A protest about the alleged reduction of water flow in the Chenab was lodged with India by the Permanent Indus Waters Commission and the Foreign Office, he said.
The Indian Commissioner for Indus Waters had been asked to provide complete information about these projects, he added.
Dastgir said India had recently started construction of the Ratle power project and Pakal Dul hydroelectric plant.
He contended that under the Indus Waters Treaty, restrictions were imposed on the design and operation of hydroelectric plants, storage works and other river works to be constructed by India on western rivers.
The treaty provides a procedure for settling disputes and any issue between the two sides is first examined by the Indus Waters Commission. If the Commission fails to resolve the issue, diplomatic channels are used to settle the matter or it can be referred to a neutral expert or court of arbitration, he added.
Image: Water flows on the banks of Chenab River with the Baglihar hydroelectric project in the background
Photograph: Amit Gupta/Reuters