Over 70 people were killed and nearly 150 others injured tonight when an Islamic State suicide bomber blew himself up inside the crowded shrine of revered Sufi Lal Shahbaz Qalandar in Sehwan town, some 200 km northeast of Karachi, in a string of deadly blasts this week in Pakistan.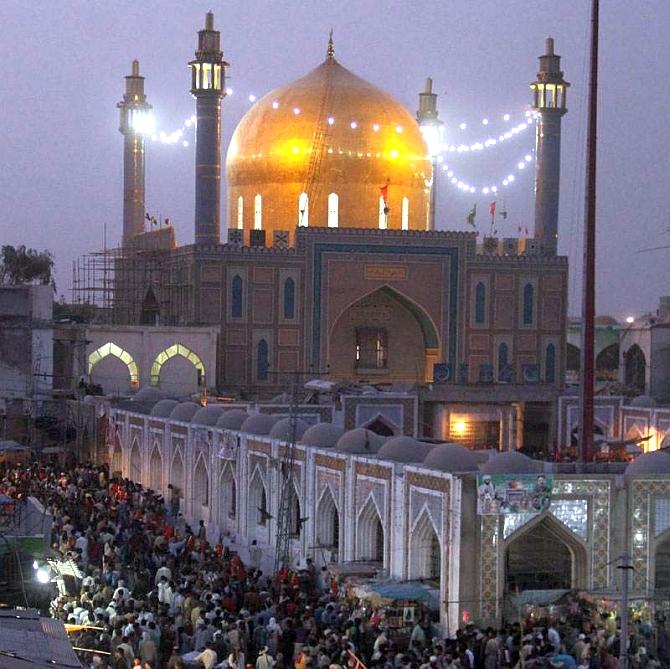 The bomber entered the shrine through its Golden gate and blew himself up near the site where the ritual of Sufi dance dhamal was taking place. The attacker first threw a grenade, to cause panic and then blew himself up, police said.
Inspector General of Police for Sindh province AD Khawaja confirmed to media that police had counted 70 dead bodies so far.
"So far 70 people have been killed and more than 150 wounded," he said. The deceased included 12 women and four children.
Earlier, Sehwan police station SHO Rasool Baksh told reporters that around 100 people, including women and children, have been killed in the suicide bomb attack.
The ISIS claimed responsibility for the attack on their Aamaq news agency, saying a suicide bomber had targeted a "Shiite gathering" at the shrine in Sindh.
Commissioner Hyderabad Kazi Shahid said since the shrine was located in a remote area, some 130 km from Hyderabad, ambulances and vehicles and medical teams were being sent from Hyderabad, Jamshoro, Moro, Dadu and Nawabshah to the blast site to take care of the injured and move the bodies.
"Emergency has been declared at hospitals in these places and rescue operations have started," he said.
Sindh Chief Minister Syed Murad Ali Shah said that the Pakistan army had been requested to provide night flying helicopters to shift the dead and injured.
"Yes it is a tragic incident and because the shrine is away from a major city there have been problems in providing rescue operations," he said.
The army said a C130 aircraft will be used to lift the injured from Nawabshah.
Prime Minister Nawaz Sharif condemned the attack and urged Pakistan to "stand united".
Devotees gather at the shrine of the revered Sufi saint every Thursday to participate in a dhamal and prayers.
Television channels reported that dead bodies and injured were lying inside the shrine of Lal Shahbaz Qalandar, a Sufi philosopher-poet of present-day Afghanistan and Pakistan.
Prime Minister Sharif said the attack on the shrine is an attack on the "progressive and inclusive future" of Pakistan.
"The Sufi people predate Pakistan's history, and played an important part in the struggle for its formation," he said.
"An attack on them is a direct threat to Jinnah's Pakistan and will be dealt as such," Sharif was quoted as saying in a statement released by his media office in Islamabad.
Army chief Gen Qamar Javed Bajwa vowed to avenge "every drop of blood" spilled by terrorists in Pakistan.
"Recent terrorist acts are being executed on directions from hostile powers and from sanctuaries in Afghanistan. We shall defend and respond.
"Each drop of the nation's blood shall be revenged, and revenged immediately. No more restraint for anyone," the Army chief was quoted as saying by Inter Services Public Relations Director Major General Asif Ghafoor on Twitter.
The fresh wave of terror attacks started when a suicide bomber attacked a protest rally outside the Punjab assembly in Lahore on Monday killing 14 people and injuring dozens.
On the same day, a terrorist attack was foiled in Quetta but two officials of the Bomb Disposal Squad were killed diffusing a bomb under a bridge in Quetta.
Terrorists also carried out attacks in Mohmand agency and Peshawar followed by Thursday's blast in Sindh.
The attack on shrine came a day after Pakistan vowed to "liquidate" all those elements posing a threat to peace and security in the country amid a spurt in terror attacks.
The decision was taken at high-level meeting chaired by Prime Minister Nawaz Sharif yesterday to review the security situation in the country.
"The meeting made a resolve that terrorism emanating within the country or executed and harboured from outside the country would be eliminated and those posing threat to peace and security of the country would be liquidated by the might of the state," according to an official statement.
Terrorists have carried out attacks in Lahore, Mohmand agency, Peshawar and Quetta within a week. They have targeted more than 25 shrines across Pakistan since 2005.
On November 13 last year, an ISIS suicide bomber killed 52 people and wounded 100 others at popular Shah Noorani shrine near Hub in Balochistan's Lasbella district.
In July 2010, two suicide bombers blew themselves up at the Sufi shrine of Data Ganj Baksh Hajveri in Lahore, killing over 50 people.
A suicide attack on the shrine of Sufi saint Abdullah Shah Ghazi in Karachi killed nine people in October 2010.
An attack on Baba Farid Shakarganj's shrine in Pakpattan in October that year left another seven people dead.