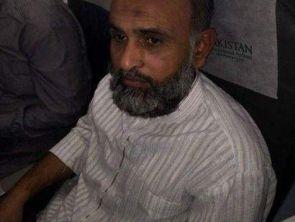 A top commander of outlawed Lashkar-e-Jhangvi, carrying a bounty of 25 lakh rupees, was on Thursday killed along with three other militants in an "encounter" with the police in Lahore in the capital of Pakistan's Punjab province.
Haroon Rashid Bhatti, a founding member and the 'last main leader' of the terrorist group, was killed in Badami Bagh area.
Punjab police's Crime Investigation Agency chief Umer Virk told reporters that a police and Counter Terrorism Department team was taking Bhatti to a hide out of his accomplices in Malik Park, near Minar-e-Pakistan monument in early on Thursday.
"When the team raided a house on Bhatti's information his accomplices opened fire on it. The personnel returned the fire killing his all three accomplices. Bhatti was killed by the firing of his accomplices," Virk claimed, adding three policemen also sustained injuries.
The CIA with the help of Interpol had arrested Bhatti along with his four accomplices in Dubai and brought them to Lahore on October 22.
Police sources said Bhatti and his three accomplices were killed in a "staged encounter." "All four members of the LeJ death squad were in the CTD custody and they were brought at the MalikPark for their staged encounter," the sources said.
Bhatti was a founding member of LeJ and a close associate of its chief Malik Ishaq. Punjab police had placed a bounty of 25 lakh rupees on his head.
Virk further said Bhatti and his other accomplices were the members of the LeJ death squad.
"Bhatti was the last top leader of LeJ and there is no other potential activist of LeJ is left now to lead this militant organisation," he claimed.
Virk said Bhatti and his accomplices were involved in killing of over a dozen personalities of Shia community.
"Bhatti and his accomplices had planned to attack Prime Minister Nawaz Sharif, Punjab Chief Minister Shahbaz Sharif and Muharram processions," Virk disclosed.
He said Bhatti and other suspects were involved in a number of terrorist attacks in Lahore and elsewhere.
Virk said the suspects were also involved in attacks on journalist Raza Rumi and playwright Asghar Nadeem Syed. They were also involved in the killing of 25 people at a funeral at Mominpura graveyard in Lahore a few years ago.
Image: LeJ's main leader Haroon Rashid Bhatti, pictured here in a video grab from October this year, was killed along with three other militants.