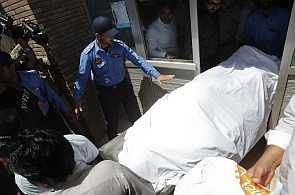 The body of Indian death row prisoner Sarabjit Singh, who died early on Thursday following a brutal assault by other inmates of a jail in Lahore, was handed over to officials of the Indian High Commission by Pakistani authorities. The body will be flown from Lahore to Indian on Thursday evening, Indian and Pakistani officials said.
Earlier, Pakistan gave clearance for a special Indian flight to take back the body. Two officials of the Indian High Commission received the body. They will accompany the body on the special flight to India.
Footage on television showed policemen and staff of Jinnah Hospital loading a plain wooden coffin with the body into an ambulance. Several vehicles with armed policemen escorted the ambulance from the hospital to Lahore international airport.
Pakistani authorities handed over the body after an autopsy was performed by a medical board. Samples from the body were sent for forensic tests and the final report on the autopsy is expected to be submitted in two weeks, sources said.
Foolproof security was put in place at Jinnah Hospital for the handing over of the body. Dozens of police commandos were deployed in and around the hospital.
Sarabjit, 49, succumbed early on Thursday to injuries sustained during a brutal assault by other inmates of Kot Lakhpat Jail on Friday. He was hit on the head with bricks and cut with knives fashioned from spoons.
The Indian national had spent about 22 years in Pakistani jails after being convicted of alleged involvement in bomb attacks in Punjab province that killed 14 people in 1990. His mercy petitions were rejected by the courts and former President Pervez Musharraf.
The previous Pakistan People's Party-led government put off Sarabjit's execution for an indefinite period in 2008. Sarabjit's family says he was the victim of mistaken identity and had mistakenly strayed across the border in an inebriated state.

Image: Pakistani hospital staff move the body of Sarabjit Singh after an autopsy at the Jinnah Hospital in Lahore | Photograph: Mohsin Raza/Reuters