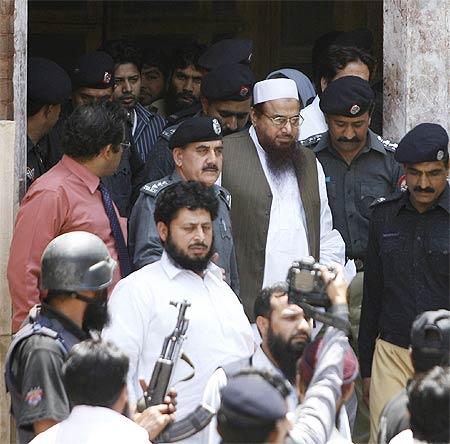 In an unusual move, Pakistan's army on Tuesday said the detention of the Mumbai attack mastermind Hafiz Saeed was a 'policy decision in the national interest' as the government announced that the Jamat-ud Dawa leader's 90-day house arrest could be extended if required.
"The detention is a policy decision taken in the national interest. The relevant department may give more information in a day or two and the situation will become clearer," military spokesman Major General Asif Ghafoor told reporters in Rawalpindi.
Saeed and four other JuD leaders were put under house arrest after order of detention was issued by PunjabProvince's Interior Ministry on Monday in pursuance to a directive from the Federal Interior Ministry on January 27.
Maj Gen Ghafoor said Pakistan wants peace with India and resolution of all issues including Kashmir through talks held on the basis of self-respect and honour, but it should not be considered as weakness.
"We want the Kashmir issue to be resolve via United Nations resolutions and dialogue, but this desire for peace should not be misconstrued as a weakness," he said.
After the Punjab Home Department declared Saeed's Jauhar Town Lahore residence as sub-jail, the JuD chief was shifted there from its headquarters Al-Qadsia Chauburji on Tuesday.
First Saeed was allowed by police to hold a press conference before he left for his home along with dozens of his supporters amid high police security.
The Opposition in the Pakistan Punjab assembly on Tuesday staged a walkout to protest against Saeed's detention.
The Opposition, which is led by Imran Khan's Pakistan Tehreek-i-Insaf, said the Pakistan Muslim League-Nawaz government has taken the step on the pressure of the Trump and Modi administrations.
According to the Punjab Home Department notification, 'Both JuD and FIF are engaged in certain activities which could be prejudicial to peace and security and in violation of Pakistan's obligations to the UN Security Council Resolution. And accordingly both organisations have been placed in the Second Schedule of Anti-Terrorism Act 1997.'
Similarly, it said Saeed is engaged in certain activities which could be 'prejudicial to peace and security'.
He is placed in the Fourth Schedule of Anti-Terrorism Act 1997 and put under detention for a period 90 days.
The interior ministry in separate notification has also put JuD and FIF on the watch list for six months.
Earlier, Interior Minister Chaudhry Nisar Ali Khan said the state has taken certain actions against the JuD regarding its obligations to the UNSC resolution.
The News said that the government decided to put JuD and FIF into a watchlist and approved freezing of their assets, cancelling passports and arms licenses under the UN resolution 1267 to comply with the conditions of the Financial Action Task Force (FATF) for maintaining Pakistan on the white list.
The government has issued instructions to all concerned departments, including the State Bank of Pakistan, commercial banks, law enforcement agencies at the federal level including Federal Bureau of Revenue, Federal Investigation Agency as well as provincial governments to implement all these orders.
Pakistan will submit its compliance report to FATF on Tuesday on account of implementing money laundering laws in an effective manner, which will be a pre-equisite to maintain the country in the white list of FATF, the paper said.
In case of non-compliance, Pakistan might have slipped into grey and negative and danger zone in terms of labelling it in the negative list on account of terrorism financing.
The FATF, an inter-governmental body, was founded by the G-7 Group in 1989 to set standards for Anti-Money Laundering and Counter-Terrorism Financing Act. It had placed Pakistan on its grey list in Feb 2012, meaning that the country was not fully compliant with standards set by the FATF for combating money laundering and terrorist financing.
There have been reports that Islamabad has immense pressure from new US administration to take action against Saeed and his organisations.
Saeed was also put under house arrest after Mumbai terror attacks in November 2008 but he was freed by court in 2009.
Image for representation only.