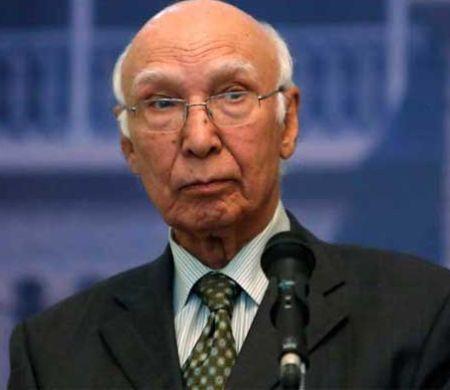 Adviser to Pakistan Prime Minister Nawaz Sharif on foreign affairs Sartaj Aziz stated that relations with the United States have been under stress for the past three months because of conditions attached by Washington to the funding of F-16s sale.
According to Dawn, the adviser admitted this while winding up a debate in the Senate on an adjournment motion on the US decision to withdraw proposed subsidy on the sale of F-16 fighter jets to Pakistan.
Aziz said that Pakistan-US relations had come to a standstill in 2011 because of incidents of WikiLeaks, Raymond Davis, Abbottabad operation, Datta Khel and Salala.
Since 2013, he said, Pakistan's relations with the US had witnessed an 'upward trajectory'.
"In the past three months, however, this upward trajectory in relations has witnessed a downward slide, as reflected in a decision of the US Congress to block partial funding for eight F-16 aircraft," he said.
Aziz said that the action by the US might have been caused by concerns raised by Washington on the nuclear issue which had been firmly rejected by Pakistan.
"We have also rejected frequent demands, especially by the US Congress, for the release of Dr Shakil Afridi. The US officials, Congress, think-tanks and media, in tandem with our adversaries, have also been blaming Pakistan for supporting the Haqqani network without giving any concrete evidence to enable us to take additional action against it or other terrorist organisations," he added.
Asserting that the Haqqani Network issue remained the top US concern at the moment, Aziz said that Indian lobby in the US had not been cooperative especially after the Pathankot incident.
However, he assured the Senate that in view of the importance of the issue, Pakistan had been making all-out efforts to finalise the F-16 deal with the US administration.