The police have sent the tapes of the alleged speech made by MIM MLA Akbaruddin Owaisi to three different forensic laboratories to establish its authenticity. Vicky Nanjappa reports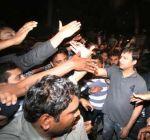 The police chargesheet against Majlis-e-Ittehad-ul Muslimeen MLA Akbaruddin Owaisi in connection with his hate speech is expected to be ready in a week, say police sources.
While being questioned by the police, Owaisi is said to have denied that the voice in the alleged hate speech recording was his. He said the tapes were doctored.  
The police have now sent the video and the voice samples to forensic sciences laboratories in Hyderabad, Ahmedabad and Chandigarh to ascertain its authenticity. The final report is expected in a week.
The police, however, claim that it is an open and shut case. Although Owaisi has denied it is his voice, eye witnesses at the event have confirmed that Owaisi had made the speech.
The provocation to make the alleged hate speech was also part of the police investigation. The police found that the immediate provocation was the temple issue outside Charminar in Hyderabad and the speech was delivered as a counter attack to some alleged speeches made against Muslims. Owaisi has denied this allegation.
The police have said that they will seek the MLA's custody for a few days after the forensic reports reach them. Owaisi, meanwhile, is expected to apply for bail and will also await the result of the court order which would decide whether he should be treated as a VIP prisoner or not. Owaisi had complained about the facilities in jail and said that he ought to be treated as a VIP prisoner. He had sought a different bed and also a television set in his prison cell.