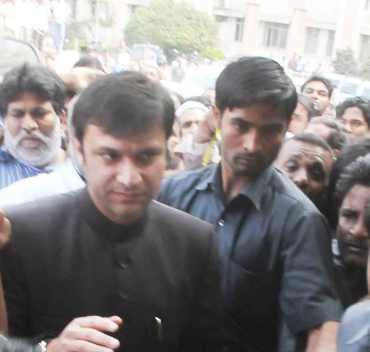 The Majlis-e-Ittehadul Muslimeen legislator, who has been accused of sedition, is being questioned on his childhood days, the films he likes, the books he reads as he undergoes a personality test in prison. Police officials and psychiatrists are on the job. Vicky Nanjappa reports 
An investigation into a hate speech is often a tough job for investigators. The main evidence is a video of the speech, which needs to be verified for its authenticity by the forensic sciences laboratory. In the case of Majlis-e-Ittehadul Muslimeen Member of Legislative Assembly Akbarrudin Owaisi, there is no problem with the authenticity of the tape.

Owaisi, who is accused of sedition for his alleged hate speech, has been remanded to police custody till Thursday. 

So what questions are asked in an investigation of this nature? Apart from the basic questions that are asked regarding the provocation to make such a speech, police officials along with psychiatrists try and ascertain the personality of the accused.

Owaisi's case is no different. Police officials privy to the investigation told rediff.com that they are assessing his overall personality and are trying to find out if there is a radical element, which has prompted him to deliver such a speech.

During the personality test, the police asked him about his likes and his dislikes; whether
he nurtures hatred towards other communities or religions.
In
addition to this, the investigation also revolved around the kind of films he likes and the books he reads. The police further asked him about his hobbies and about his childhood. The questions about his childhood were being asked to determine if he had a disturbed one. Further, his understanding of culture and the people he is surrounded with and his relationship with them was part of the probe.
Police
officials say that this is a very crucial part of the investigation. "It is being done to ascertain the reasons behind the hate speech. It will also give us a chance to analyse if such speeches would be made yet again once he is released," said the officials.
Police
sources say that the answers that have been given by Owaisi are being analysed and a report would be drafted. Owaisi has been cooperative during the probe although he seeks frequent breaks. He complains of pain while sitting for long hours. The questioning lasts between four to five hours a day
In
addition to this, he has a doctor who checks him regularly. He is suffering from indigestion and is being treated for the same.
His
plea to treat him as a VIP prisoner will come up for hearing on Wednesday. Owaisi has sought for a television set, as he refuses to watch it with the other inmates. He has also sought for mattress and a cot as he complains that due to a bullet injury sustained he is unable to sleep on the floor.
Image: MIM MLA Akbaruddin Owaisi