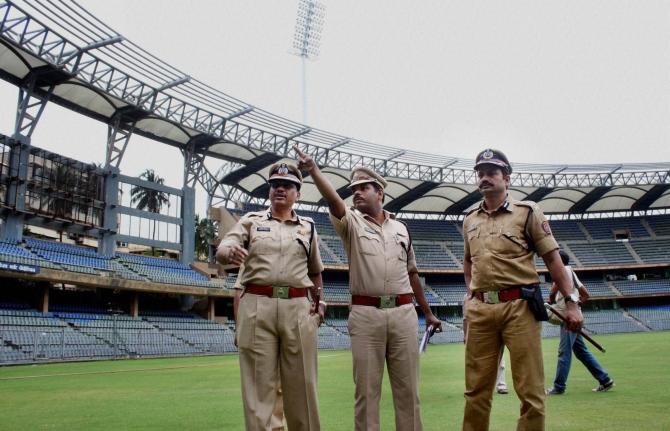 A strict vigil will be maintained during the swearing-in of Devendra Fadnavis as Maharashtra chief minister at Wankhede stadium in Mumbai on Friday, with over 2,500 security personnel being deployed in and around the sprawling ground.
The stadium, which will host the first open air oath taking ceremony, has been declared a no flying zone, police said.
Under the supervision of city Police Commissioner Rakesh Maria, about 2,500 security personnel, including those of Mumbai Police, Special Protection Group and Quick Response Teams, will maintain a strict surveillance during the ceremony, Additional Police Commissioner (South) Krishna Prakash said.
The area has already been sanitised and a number of policemen had been deployed to the area, said another officer.
From Friday morning, all the 2,500 policemen will be on security duty at the ground, the officer added.
According to sources, as many as 30,000 invitees are expected to attend the grand affair and nearly 5,000 would be seated on special chairs to be arranged on the ground, while the rest will occupy stadium chairs.
Prime Minister Narendra Modi, Bharatiya Janata Party president Amit Shah, veteran party leader L K Advani, Rashtriya Swayamsevak Sangh chief Mohan Bhagwat, several Union ministers, chief ministers of other BJP-ruled states, party MLAs, Bollywood celebrities and industrialists are likely to be present during the ceremony, police said.
The bomb squad and dog squad has been carrying out regular checks in the stadium. Police have also installed 'nakabandis' at the city's entry points.
Plans are underway to create a no parking zone near the stadium and vehicles of invitees, except VVIPs, are likely to be parked near the BJP office at Nariman Point and adjacent to the ground of Mumbai Hockey Association.
Police are conducting anti-sabotage checks and heavy frisking of visitors will be done. "Snipers will be positioned at strategic locations," said another police officer.
"Policemen will be armed with advanced communication equipment," he said.