"Mommy I love you. In club they shooting."
"He's coming. I'm gonna die."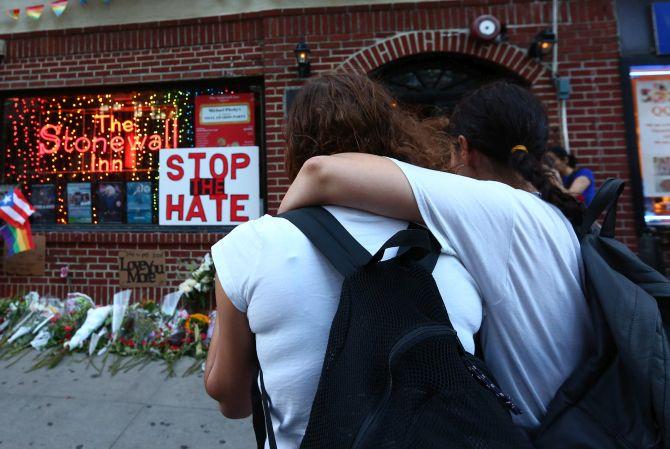 IMAGE: Women embrace before a make-shift memorial in front of the Stonewall Inn where a vigil was held following the massacre that occurred at a gay Orlando nightclub. Photograph: Monika Graff/Getty Images
That's what a terrified 30-year-old man texted his mother while trapped inside the Orlando, Florida nightclub where at least 50 people were killed early Sunday.
Mina Justice was outside the club trying to contact her 30-year-old son Eddie Justice, who texted her when the shooting happened and asked her to call the police.
133
The number of mass shootings in the United States in 2016
15
The number of mass shootings in Florida this year
He told her he ran into a bathroom with other club patrons to hide and then wrote 'he's coming.'
"The next text said: 'He has us, and he's in here with us'," Mina Justice said. "That was the last conversation."
It's unclear so far whether Justice was one of the casualties.
Some Orlando massacre survivors have started to speak about their struggle to stay alive. About 2 am at Pulse nightclub, one of the club patrons, Chris Hansen, thought the popping sound was part of the music. "It went with the beat almost," he said later.
A man with a gun, an AR-15-style semi-automatic rifle, was shooting people. Witnesses described dead bodies littering the ground and people trampling over one another in their struggle to stay alive.
IMAGE: The texts that Eddie Justice sent to his mother Mina around 2 am on Sunday when the shooter entered Pulse nightclub and went on a rampage.
Ricardo Negron Almodovar was in the club when Omar Mateen let a shower of bullets rain in the club.
He wrote on Facebook: "I was there. Shooter opened fire around 2:00 am. People on the dance floor and bar got down on the floor and some of us who were near the bar and back exit managed to go out through the outdoor area and just ran. "I am safely home and hoping everyone gets home safely as well L"
Officials have begun releasing the names of the dead as family members were notified. So far, six men have been formally identified, including Edward Sotomayor junior, who was 34. Sotomayor was a national brand manager for ALandCHUCK.travel, a travel agency catering to the gay community.
Other named victims include Luis Omar Ocasio-Capo, 20, Juan Ramon Guerrero, 22, Eric Ivan Ortiz-Rivera, 36, Peter Gonzalez-Cruz, 22, and Luis Vielma, 22.