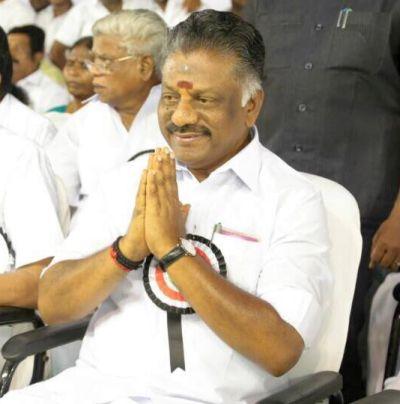 Virtually bringing down the curtain on the merger of the two rival All India Anna Dravida Munnetra Kazhagam groups, Puratchi Thalaivi Amma camp leader O Panneerselvam on Sunday announced dissolving a seven-member panel set up to hold merger talks with the Amma faction led by Tamil Nadu Chief Minister K Palaniswami.
The former Tamil Nadu chief minister made the announcement at a meeting of party functionaries in Chennai. It was received by cheers from supporters, with his senior colleagues rushing to congratulate him.
He said he was being "forced" to come up with such an announcement as he had been "tolerating" all kinds of "irresponsible statements" from the opposition camp.
People from all walks of life, especially women, students and the youth, were now opposing the idea of the merger, he said.
"In this situation, the panel that was formed on behalf of our team (to hold merger talks) is being dissolved," he said amid loud cheers from supporters.
Panneerselvam's announcement came as no visible progress was made in the proposed talks. Former ministers K P Munusamy and R Vaithilingam led the respective panels, which were formed in April.
Though both sides publicly announced their willingness to hold talks, the Panneerselvam faction remained firm on its demand for a Central Burau of Investigation probe into the death of Jayalalithaa and the removal of AIADMK chief VK Sasikala and her family members, including Deputy General Secretary TTV Dinakaran, from the party as a precondition for talks.
None of the demands had been met, though a section of ministers revolted against Dinakaran in April, asking him to stay away from party affairs. He had also announced then that he was stepping aside.
However, he had recently, upon release on bail in the Election Commission bribery case, said he would continue with party work.
At the meeting, Panneerselvam took a dig at the Palaniswami camp, saying MLAs were gifted "gold, diamond and cash" during their stay at a resort at Koovathur near Chennai, prior to the February 18 trust vote faced and won by Palaniswami.
"Amma asked for votes for us and people voted. All should remember that," he said.
Panneerselvam had revolted against Sasikala in February, alleging he was forced to make way for her elevation as chief minister.
He later led the breakaway faction of some MPs and MLAs besides senior functionaries.
The faction has since challenged the election of Sasikala as AIADMK general secretary before the Election Commission, while also staking claim for the party's two leaves symbol.