In signs of thaw on All India Anna Dravida Munnetra Kazhagam merger move, the factions led by Tamil Nadu Chief Minister K Palaniswami and the one by O Panneerselvam on Friday announced formation of their respective committees to hold discussions.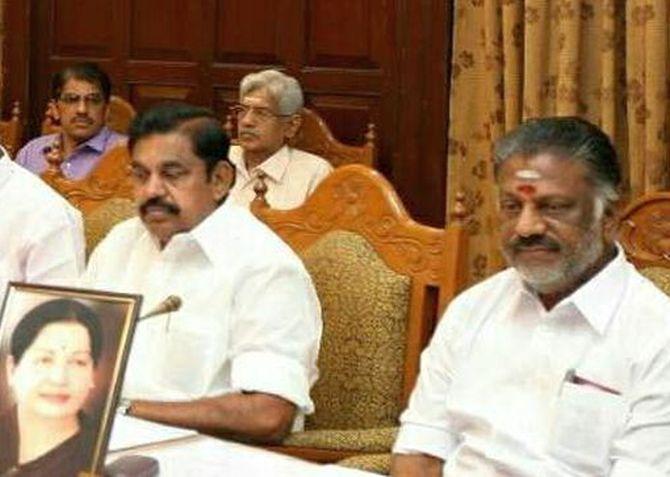 Rajya Sabha MP R Vaithilingam will head the panel set up by the Palaniswami group while the Panneerselvam camp named senior leader and former minister K P Munusamy as the head of a seven-member committee.
Former ministers C Ponnaiyan, R Viswanathan and K Pandiarajan, Rajya Sabha MP V Maithreyan, former MP T H Manoj Pandian and former MLA J C D Prabhakar were the other members, a release from Panneerselvam camp said.
Earlier in the day, the Palanaismami camp constituted its committee led by Vaithilingam (which is likely to include some ministers) to hold talks with the Panneerselvam faction.
Responding to the development, Munusamy announced that his faction would also constitute a committee soon to hold the merger talks.
The developments came a day after the talks appeared to have hit a roadblock with the Panneerselvam camp seeking formal expulsion of V K Sasikala and T T V Dinakaran from the party.
It had also sought a Central Bureau of Investigation probe into the circumstances leading to former Chief Minister Jayalalithaa's death on December 5 last year.
Hardening its stance for talks, the OPS camp had also demanded that 30 members of the Sasiskala family be formally expelled from the party.
Meanwhile, former School Education Minister K Pandiarajan of OPS faction confirmed that the Palaniswami group had contacted them for talks.
Earlier the AIADMK-Amma leader and Local Administration Minister S P Velumani had quoted Palaniswami as saying that Vaithilingam, heading the panel, would be at the party office in Chennai and "we will join him as and when required."
"As far as we are concerned, we want to redeem the 'two leaves' symbol and remain united," he told reporters.
Velumani said the common feeling in the faction was that there should be unity in the party "founded by MGR (M G Ramachandran) and taken forward by Amma (Jayalalithaa)".
Earlier, the ministers and senior leaders met at the party headquarters here under Palaniswami.
Following the cabinet's revolt against him early this week, Dinakaran had said he was "stepping aside" in the interest of the party.
Munusamy had on Thursday said the first demand was getting the resignation of Sasikala and Dinakaran and later their formal expulsion along with 30 other members of their family.
The Panneerselvam camp had also demanded withdrawal of affidavits submitted to the Election Commission by the Palaniswami faction, declaring Sasikala and Dinakaran as party General Secretary and Deputy General Secretary, respectively.
Munusamy had said he suspected "foul play" over the Palaniswamy camp's decision of April 18 to remove Sasikala and Dinakaran.
He had said that in keeping with AIADMK party practice, a party notification should be issued on Dinakaran and Sasikala family's expulsion.
He had said that the OPS camp would regard it as a full victory only if cadres were asked not to have any truck with the duo.
Vaithilingam had retorted that there was 'no drama' over the decision to ask Sasikala and Dinakaran to keep away from the party and government.
"There is no drama. We compelled him (Dinakaran) to step aside and he did it happily," Vaithilingam said.
Munusamy had yesterday in reply to a query from reporters said the OPS faction had not demanded the posts of either chief minister or party general secretary.
Meanwhile, Dinakaran remained incommunicado for the second consecutive day after being served summons by a two-member Delhi police team in Chennai on April 19 for allegedly trying to bribe an Election Commission official to secure the party's coveted two leaves symbol.
Dinakaran has maintained that he had already announced he would stay away from party affairs and that he could be removed only by Sasikala.
Sasikala is presently serving a four year term in a Bengalaru jail in a disproportionate assets case.