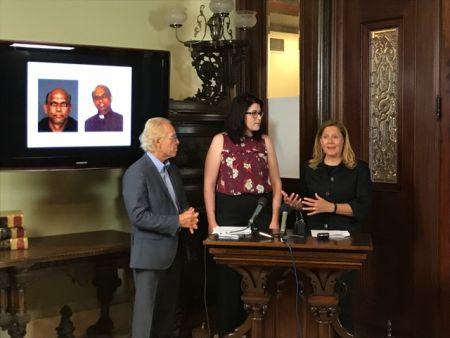 Diocese agrees to revoke molester priest's return to the priesthood and keep him away from children.
George Joseph reports from New York.
In a landmark victory for victims of priest sex abuse, the diocese of Ootacamund in Tamil Nadu signed an agreement with Megan Peterson, who was molested by Reverend Joseph Palanivel Jeyapaul, when he served in Crookston, Minnesota, in the US in 2004-2005.
Bishop Dr A Amalraj signed the agreement which says that Jeyapaul, 61, will not be returned to the ministry and will not have access to youth and young people.
The bishop also agreed to suspend or revoke Jeyapaul's privileges. The diocese will give semi-annual status updates of Jeyapaul's location and ministerial status for six years.
After that it will give annual reports until Jeyapaul is removed from the priesthood.
At a press conference in St Paul, Minnesota, Peterson and her attorneys Jeff Anderson and Mike Finnegan along with Barbara Blaine and Peter Isley of the Survivors Network of those Abused by Priests announced the settlement in the first-ever 'nuisance case' against an overseas diocese in a US Federal court.
After his extradition from India to the US in 2014, Jeyapaul pleaded guilty to criminal sexual abuse of a minor girl.
He was sentenced to one year in jail, and was later deported to India last year.
In January this year, Bishop Amalraj lifted Jeyapaul's suspension from the ministry.
After learning of Jeyapaul's return to the priesthood, Peterson filed a federal lawsuit, alleging 'nuisance' against the diocese of Ootacamund for returning Jeyapaul to active ministry and exposing innocent children to his predatory ways.
Speaking about his reinstatement, Peterson said earlier, 'I felt abused and degraded and victimised all over again. It felt like a slap in the face to me and other survivors of clergy sex abuse across the globe. I have information that Jeyapaul is a serious offender and I am choosing to act and spread the word and protect those kids in India.'
Though jurisdiction was an issue, the diocese was willing to settle the issue, attorney Anderson told the press conference.
Jeyapaul came to the Crookston diocese in Minnesota in 2004, and was assigned to the Blessed Sacrament Church in Greenbush, about 340 miles northwest of Minneapolis.
In 2005, he left for India as his mother was seriously ill. The charges were filed only after he left the country.
Crookston Bishop Victor Balke wrote to the Ootacamund diocese about the allegations and later to the Vatican's Congregation for the Doctrine of Faith.
Bishop Balke raised concerns about Jeyapaul's continued service to the church. Though the Vatican favored defrocking of the priest, the decision was left to the bishop of Ootacamund, who held a canonical trial and sent Jeyapaul to a year in a monastery.
Bishop Amalraj said he could not take any other action without proof.
In 2006, Balke wrote a second letter to the Vatican, saying that Jeyapaul had been accused of molesting a second girl. Balke followed this up with the Vatican demanding strong action. But nothing happened and Jeyapaul continued working in Ootacamund.
In 2007, a criminal complaint was filed in Roseau County, Minnesota, against Jeyapaul's sexual abuse of a minor female. County Attorney Lisa Hanson, who was prosecuting the criminal case, filed a petition for extradition. Interpol was notified.
In 2012, Jeyapaul was arrested and lodged in Tihar jail in Delhi. He challenged the extradition order in the Delhi high court, which rejected it.
In 2014, he was extradited to Minnesota to face criminal charges. In May 2015, he pleaded guilty to fourth-degree criminal sexual abuse of the second girl, not Peterson. After serving one year in jail he was deported to India in 2015.
A civil case against the Crookston diocese by Peterson was settled with the diocese paying $750,000 (about Rs 5.02 crore/Rs 50.2 million).
IMAGE: Abuse victim Megan Peterson, centre, at a press conference in Minnesota. On the blackboard at left are images of the accused, Joseph Jeyapaul