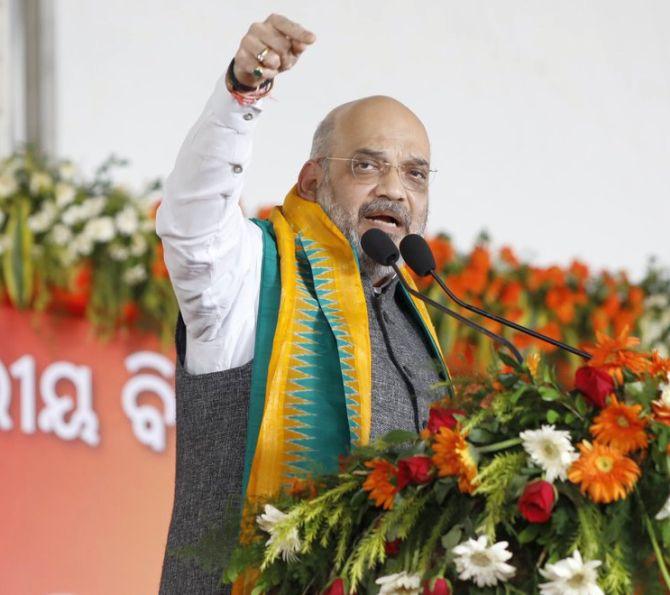 Bharatiya Janata Party president Amit Shah on Friday said that the Congress stands "exposed" with the Supreme Court's refusal to interfere with the arrests of five activists in the Koregaon-Bhima violence case, and said "there is only one place for idiocy and it's called the Congress".
"Those who stooped down to the level of politicising an issue of national security have been exposed by the Honourable Supreme Court's decision today. It is high time that the Congress now clears its stand on this critical issue of Urban Naxalism," he said in a series of tweets.
The Bharatiya Janata Party chief also lashed out at Congress president Rahul Gandhi and tagged his tweet posted last month in which he had targeted the government for these arrests.
"There is only one place for idiocy and it's called the Congress. Support 'Bharat Ke Tukde Tukde Gang' (break India gang), Maoists, fake activists and corrupt elements. Defame all those who are honest and working. Welcome to Rahul Gandhi's Congress," Shah said.
India is a vibrant democracy with a healthy culture of debate, discussion and dissent, he said, adding that "plotting against the country with the intent to harm its citizens is not one of these".
Those who politicised this issue need to apologise, he said.
Shah's response came after the Supreme Court refused to interfere with the arrest of five rights activists by the Maharashtra Police in connection with the Koregaon-Bhima violence case and declined to appoint a SIT to probe their arrest.
Gandhi had said in a tweet on August 28 that there is place for only one NGO in India and it's called the RSS.
"Shut down all other NGOs. Jail all activists and shoot those that complain. Welcome to the new India," he had said
A three-judge bench headed by Chief Justice Dipak Misra, in a 2:1 verdict, Friday refused the plea seeking the immediate release of the activists and also declined to appoint a special investigation team (SIT) to probe their arrest.