Endangered Olive Ridley sea turtles, which were tagged for the purpose of studying their migration pattern, have reappeared for mass nesting on the sandy Gahirmatha beach in Odisha.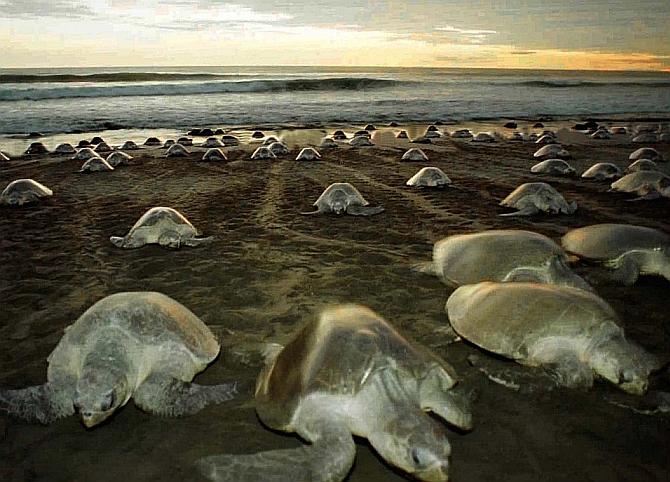 The sighting of 'tagged' turtles on February 22 night, the day mass nesting of Olive Ridley turtles started this year, established the belief that these marine creatures prefer Odisha for laying eggs.
Forest Range Officer, Gahirmatha Forest Range, Subrat Patra, who was on duty at the beach and was a witness to this unique phenomenon said, ten female turtles with metallic tags fitted on their flippers were sighted on the beach during mass nesting.
The figure of the tagged turtles could have been higher since locating them amid millions of turtles in the darkness of the night was a Herculean task, he said.
The reappearance of tagged turtles in Gahirmatha provides evidence to the fact that the female turtles return to the same beach annually for laying their eggs, where they were born decades ago, Patra said.
There is every possibility of more tagged turtles turning up to lay eggs, he added.
The state forest department and Wildlife Institute of India (WII) over the years had tagged around 30,000 turtles with metallic labels to keep a tab on their pre and post-breeding migration, during arrival of these turtles for mass nesting.
The tagged turtles were spotted re-emerging at the nesting beaches of Gahirmatha, Devi river mouth and Rushikulya river mouth off Odisha coast.
Meanwhile, mass nesting of these delicate reptiles, which commenced a few days back on February 22 night, is in full swing.
Around 3,35,099 turtles have already laid eggs on the Gahiramatha Beach, world's largest rookery of sea turtles since February 22 night, said the Gahirmatha Forest Range Officer.
"We are hopeful of convergence of more turtles on the Gahirmatha Beach for mass nesting as a large congregation of turtles are still being sighted in mid sea," he said.
The number of turtles arriving at the odisha coast was much lower last year.
Before the tagging was undertaken, little was known regarding movement of these animals, said Divisional Forest Officer, Rajnagar Mangrove (wildlife) Forest Division, Bimal Prasanna Acharya.
Wildlife Institute of India in a joint endeavour with forest department in past years had tagged over 25,000 female turtles.
Tagging is most often conducted to obtain information on reproductive biology, movements and growth rates.
The tagging helps in studying the turtle's migratory route and areas of foraging, said forest officials.
Sea turtles throughout the world are known to migrate thousands of kilometers between their nesting beaches and feeding grounds.
Apart from tagging turtles to study their itinerant behaviour, Wildlife Institute of India (WII) in 2007 had experimented by fitting four turtles with Platform Transmitter Terminals (PTTs) with online monitoring of migratory routes.
The PTT fitted turtles were found to have migrated south towards Sri Lanka.
However, the experiment had failed as four PTT-fitted turtles had stopped transmitting within two to four months, either due to some technical problems or mortality, said forest officials.
Representational Photograph: Reuters