More than 300 National Disaster Response Force rescuers armed with big metal cutters, canine squads and other heavy-lift equipment are working at the train accident site in Odisha and are expected to wind up the search operation by Saturday evening, director general of the force Atul Karwal said in New Delhi on Saturday.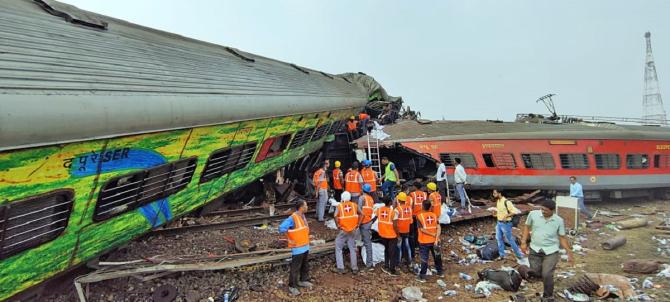 The federal contingency force has taken out 44 victims alive and 71 bodies from the mangled railway coaches in Balasore district since its first team reached the accident site around 8:30 pm on Friday.
"More than 300 rescuers divided into nine teams are working at the accident site. We hope to finish the search operation by this evening," Karwal said at the headquarters of the National Disaster Response Force in New Delhi.
He said the first NDRF team reached the site from its regional response centre in Balasore about an hour and a quarter after the accident that is stated to have occurred around 7-7:10 pm on Friday.
The rest of the NDRF teams were rushed from Mundali in Cuttack district and Kolkata, he said.
The DG said the main task of the force is to look for and rescue the victims who are still alive after cutting through the mangled heaps of the train coaches.
The NDRF sniffer dog squad, women rescuers and medical teams are also present on the spot with stretchers and first-aid kits, a senior officer said.
Karwal said they are undertaking the rescue operation in coordination with the state and railway authorities.
"We have had as many as 55 mock exercises with the railways over the last one year to respond to such rail disasters," he added.
At least 261 people have been killed and more than 650 injured in the horrific accident involving three trains, officials said.