Delhi's chief minister claims success, but his ambitious odd even scheme's real test could be on Monday, reports N Sundaresha Subramanian.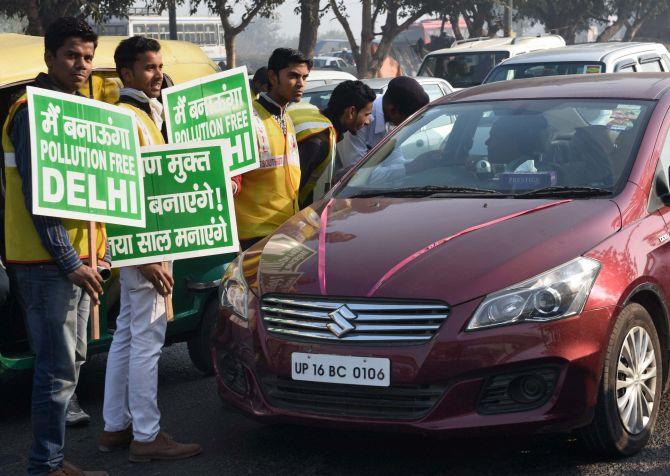 Volunteers with traffic police explaining the rules to an even number car owner near the Nizamuddin Bridge in New Delhi. Photograph: Subhav Shukla/PTI
The people of Delhi gave a thumbs-up to the ambitious odd-even scheme of the Delhi government by not bringing out cars with even numbered registration plates on the first morning of the New Year. The initial success of the experiment could encourage similar programmes to control air pollution in other cities.

Delhi Chief Minister Arvind Kejriwal was quick to declare the move a success. But car lovers breathed a sigh of relief when a news agency quoted Kejriwal saying the restrictions would not be permanent. "These weapons are used on a temporary basis to cut dangerous levels of pollution," he said.

Detractors pointed out pollution sensors did not record major improvement in air quality. Delhi's air quality continued to remain very poor, with areas like the Delhi Secretariat complex recording severe levels of pollutants.

On Friday, cars with even numbered registration plates attracted a penalty of Rs 2,000 if driven. It will be vice versa on Saturday. Though the first offender was reported near the ITO junction as early as 8:33 am and was fined by Delhi Police, the roads were predominantly populated by cars with odd numbered registration plates.
Bharatiya Janata Party MP Satyapal Singh was the VIP offender of the day and was fined in the evening. Twenty-five categories of people are exempt, including VIPs. Singh was not one of them. As many as 203 people were challaned on Friday.
It helped that Friday was a holiday for many business establishments and schools were shut. Business Standard hailed a Kaali Peeli to check out some busy traffic intersections and public places and to get a sense of how the plan was working.

It was nine in the morning, but traffic was not heavy at Chirag Delhi in South Delhi. While there was significant north-bound traffic, there was not much movement in other directions at the intersection, which lies between huge car-owning populations in Greater Kailash, CR Park, Nehru Place, Saket and Siri Fort. Volunteers were around in bright green blazers, but they did not stop a couple of violators.

Traffic continued to be brisk at Moolchand. At Ashram, a couple of volunteers came into view. One of them carried a placard that tried to connect the New Year celebrations with a pollution-free city. Deshraj, the driver of the Kaali Peeli, suggested we check the DND Flyway that connects Ashram with trans-Yamuna localities like Mayur Vihar and Noida.

The flyway was deserted around 9:30 am. Sumit, who manages the customer service counter near the toll plaza, said there had been no special instructions to check number plates. "Traffic is below normal because it is New Year's Day. We will know the real position on Monday. The government may ask us to do something after that," he added.

The ITO junction, which has the police headquarters and newspaper offices in the vicinity, was where the action was in the morning. There was significant presence of police and civil defence personnel and half-a-dozen television broadcast vans with scores of reporters.

Two hours into the plan, Kejriwal claimed victory, tweeting, "Delhi has done it! Reports so far v encouraging. Delhiites! You give me hope that you are capable of achieving big challenges."

A civil defence official was seen telling one of the television channels that over 3,500 volunteers had been stationed in different parts of the city and congratulated the citizens of Delhi for largely being compliant.

Apart from these volunteers, 200 teams of traffic police, 66 enforcement teams of the transport department and 40 teams of sub-divisional magistrates were deployed to ensure implementation of the scheme, which is stipulated till 8 pm on weekdays.
An additional 3,000 buses were deployed, but these were not put to the test. Vijendra Singh, the conductor on a SummerfieldsSchool bus running trips from Okhla to Shahdara, said, "We have been on the road since six in the morning. Not many have used the service. I have collected less than Rs 200 in fare."
Revellers had gathered around India Gate and Connaught Place, where the mood was more New Year and less odd-even. Rajiv Chowk, the busiest metro station, was not at its busiest. The north-south Yellow Line was more crowded than the east-west Blue Line. One could not find a seat on the short ride between Rajiv Chowk and New Delhi station, which was normal. The metro had also decided to run 70 extra trips.

At New Delhi station, where the metro meets the airport line, there were long queues at exits, an everyday scene. The attendant monitoring the auto fare collection gates on the airport metro, said, "This is the airport metro. It is never crowded," adding, "Traffic is normal today. Maybe around 70 per cent."

The Airport Express continued to plead with us to take it even after we boarded it. The odd compartment had passengers on most seats, but most others were vacant. Both Terminal 3, where international passengers arrive and 1D, the local terminal, were oblivious to the odd-even hype. Sumanjit Choudhry, manning the Delhi Police prepaid taxi counter at 1D, said the measure should be followed because "life is precious, not cars". He said the terminal's busy time was eight to 11 in the morning and real test would be on Monday.

Muktar, an elderly auto rickshaw driver who voted for Kejriwal, said there was not much change in business. Mukesh Kumar, a driver with taxi-hailing app Ola, said rides were much below expected.

Kiran Bedi, the former top cop who was at the receiving end from voters like Muktar and Kumar in the Delhi elections, tweeted, "The second real test for #OddEvenPlan to succeed will be when the school holiday season ends. It's then when all Delhites r truly back using roads."

But her adversary seemed unfazed. By evening, Kejriwal was quoting John Lennon: "You may say I'm a dreamer, But I'm not the only one, I hope some day you'll join us, And the world will be as one #IamWithOddEven".