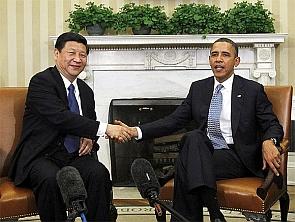 United States President Barack Obama and his Chinese counterpart Xi Jinping on Saturday agreed to work together in a "pragmatic way" to resolve crucial cyber security issues that have spiralled tensions between the two nations.
While Xi said that cyber security can actually be an area for China and the US to work together with each other in a "pragmatic way", Obama said issues such as hacking or theft, are not issues that are unique to the US-China relationship, but those are of international concern.
"The Chinese government is firm in upholding cyber security and we have major concerns about cyber security," Xi told mediapersons at the Sunnylands Retreat in California where he is holding a two-day summit with Obama.
Obama said both the leaders recognise that because of incredible advances in technology, the issue of cyber security and the need for rules and common approaches to cyber security are going to be increasingly important as part of bilateral relationships and multilateral relationships.
"In some ways, these are uncharted waters and you don't have the kinds of protocols that have governed military issues, for example, and arms issues, where nations have a lot of experience in trying to negotiate what's acceptable and what's not," Obama said.
Xi, calling for resolving of cyber security issues, said, "In the few days before President Obama and I meet, I note sharp increased media coverage of the issue of cyber security. This might give people the sense or feeling that cyber security as a threat mainly comes from China or that the issue of cyber security is the biggest problem in the China-US relationship.".
"We need to pay close attention to this issue and study ways to effectively resolve this issue. And this matter can actually be an area for China and the US to work together with each other in a pragmatic way," Xi said.
"And I'm happy to learn that within the context of the China-US strategic and economic dialogue, a working group has been established to discuss cyber security issues. So this is an issue that the two sides will continue to discuss," Xi added.
"By conducting good-faith cooperation we can remove misgivings and make information security and cyber security a positive area of cooperation between China and the US," he said.
"Because China and the US both have a need and both share a concern, and China is a victim of cyber-attacks and we hope that earnest measures can be taken to resolve this matter," said the Chinese president.