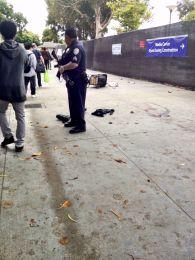 At least five persons were killed and several others wounded in a shooting at a college at Santa Monica, Southern California, some three miles away from where US President Barack Obama was attending a fundraiser.
"The attack began at a house and ended on a college campus where police say they shot the gunman in the library.
Police initially put the death toll at six, but later revised it to five people dead, including the shooter.
The gunman was in his late 20s and had been carrying an assault-style rifle, say witnesses," BBC reported.
Eyewitnesses saw a man dressed in black with a semi-automatic weapon in his hand and a belt full of ammunition around his waist, KNX 1070 radio station said.
The man "looked official" and did not have his face covered, a victim told radio station.
A campus worker heard dozens of gunshots and saw students, who are appearing in final exams on the campus this week, scrambling for safety, another report said.
The White House spokesman Josh Earnest said Obama's motorcade will head back to the Los Angeles airport to avoid any impact on the ongoing local response to the shooting.
Obama, on his way to a summit with Chinese President Xi Jinping, was in Santa Monica speaking at a Democratic fundraiser several miles from the scene of the shooting.
"We are aware of the incident and it is not impacting the visit. It's a local police matter at this point," said Secret Service spokesman, Edwin M Donovan.
Nearby schools and campuses were put on lockdown, police said, amid fast-moving developments and confusion over whether additional gunman could be at large.
In a statement Santa MonicaCollege said: "There have been reports of a shooter on the main SMC campus. The college is on lock-down. This means that if you are on campus, stay out of open spaces, stay indoors, lock all doors and do not open the doors until you receive an all clear from college officials. If you are off campus, do NOT come to campus."
Image: A policeman stands guard at the site of the shooting
Phototgraph: Reuters