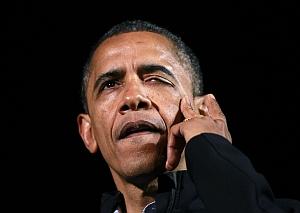 An emotional United States President Barack Obama concluded his final speech of his aggressive re-election campaign against rival Mitt Romney with a tear rolling down his cheek.   
In what turned out to be an emotional and nostalgic campaign stop, Obama visited the East Village in Des Moines in the swing state of Iowa to campaign for the last time in the high-voltage electioneering.
Adding a touch of sentimentality to it, Obama's visit to Des Moines was the same place where his launch for the presidency began back in 2007.
"I came back to ask you to help us finish what we started because this is where our movement for change began," Obama said. "When the cynics said we couldn't, you said: 'Yes, we can'."
Occasionally speaking with a slight quiver in his voice, Obama sought to stand his ground on the eve of election night and thanked his supporters for their dedication.
"You took this campaign and you made it your own and you organised yourselves block by block, neighbourhood by neighbourhood, county by county, starting a movement that spread across the country," Obama said.
"In Iowa, in 2008, your voice changed the world." Obama did not take too much time out of his speech to talk about his opponent, Republican candidate Romney. Instead, he used his time at the podium to highlight his what he had accomplished in his first term and reinforce his idea that the country was on the right track, and he would get the country completely back on its feet in his second term.
"We've made real progress these last four years," he said. "But Iowa, we're here tonight because we've got more work to do. We're not done yet on this journey; we've got more road to travel."
Obama ended his speech with another push for everyone to vote in the elections.
Obama currently leads Romney by down five points in the swing state of Iowa, according to the latest poll from The Des Moines Register.
"I got a lot more fight left in me, but to wage that fight on behalf of American families, I need you to still have some fight left in you too," Obama said.
"It's out of my hands now, it's up to you," Obama said as tears streaked down his left cheek from the corner of his eye. Obama was also joined by his wife, Michelle, and musician Bruce Springsteen.
Image: US President Barack Obama wipes a tear from his face during remarks at his final presidential campaign rally in Des Moines, Iowa
Photographer: Jason Reed/Reuters