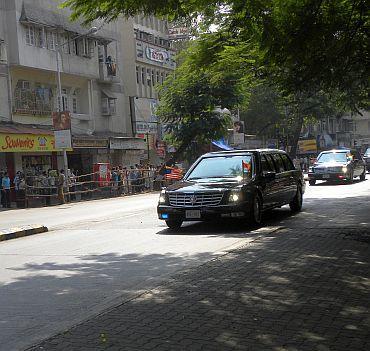 Kshamaya Daniel had her 'OMG! I just saw the US President and his wife' moment when she saw Barack Obama's cavalcade pass by. Hear it from the 10-year-old:
November 6. My friends Gino D'Cruz, Danyeshka D'Cruz, Amalia Akerkar, Rita' Cascia Ukachukwu, my grandmother Hazel Daniel, my sister Nadisha Daniel and I were anxiously waiting for US President Barack Obama and First Lady Michelle Obama at the end of Sorab Bharucha Road, Colaba, the lane where I live.

We were all set with our phones and video cameras to take videos and pictures.
Shared a moment with the Obamas? Tell us about it!
Suddenly everyone stared clapping. We excitedly thought that maybe they had arrived. But then we realised that people were clapping because some dog had come onto the road and was started running in circles. A policeman chased him away.

After waiting a few more minutes, we heard a low siren getting louder and louder. We
could see several cars approaching. We all got ready.
First, two police cars came, then a van, then two limos, then two more police cars, then two buses and then a few more police cars.

In the second limo, I clearly saw Michelle and Barack Obama. She was wearing a grayish dress, but her sparkling white pearls shone through the thick and dark windows. I thought Michelle was outstandingly beautiful.

He was talking on the phone. I was very fortunate to have seen him because he leaned over and looked out of Michelle's window only for a moment.

After all this happened, I felt so wow and decided right then that I had to name this moment.
It is my 'OMG! I just saw the US President and his wife' feeling.

However, I do know someone who is luckier than me.

On the morning of November 7, just as Michelle finished her speech at St Xavier's College, a baby at the Cama Hospital was born. Its parents did not think twice before naming their baby.
That's right, Michelle.

Shared a moment with the Obamas? Tell us about it!