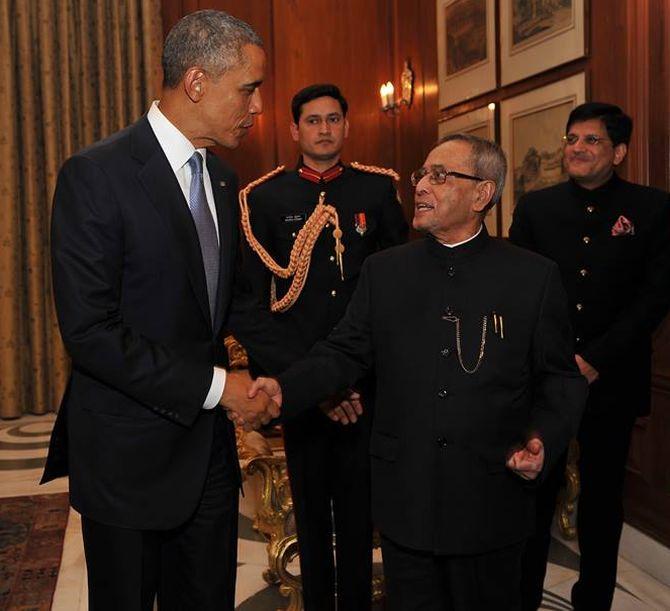 Rich culinary traditions from ashmir to West Bengal were spread out in the lavish banquet in honour visiting US President Barack Obama at Rashtrapati Bhavan on Sunday night.
Famous signature meat preparations from the Valley, Kashmiri Gushtaba, tender meat balls made with a complex mix of spices, and aromatic rogan josh were specially prepared by Rashtrapati Bhavan chefs to tickle the palate of the visiting dignitaries.
Famous Galauti kebabs of Lucknow, roasted leg of lamb, fish curries in different Bengali preparations and chicken tikka from Punjab were laid out for Obama and his wife Michelle at the banquet in their honour hosted by President Pranab Mukherjee.
For vegetarians, the choice was limited with Kadhi Pakoda and dal, rice for them. Malpua from Bihar and north Indian delicacy Rabri was served as the dessert.
Amid clinking of cutlery during the banquet, symbolic musical scores ranging from 'Yes We Can' of the famous Black Eyed Peas singer will.i.am in tune to motivational rendition of Rabindranath Tagore 'Ekla Chalo Re' kept them entertained.
A medley of songs from Hawai, where Obama was born and raised, including chants like 'Kawika', Michael Jackson's 'We Are the World' and Stevie Wonder's 'Part Time Lover' besides number of Hindi and English songs provided much needed soothing atmosphere to the dignitaries after a hectic day of parlays.
Besides the President, Vice President Hamid Ansari, Prime Minister Narendra Modi, his cabinet colleagues, former Prime Minister Manmohan Singh, Bharatiya Janata Party leaders L K Advani and Murli Manohar Joshi and Congress President Sonia Gandhi attended the banquet.
Other host of dignitaries present at the banquet included chief ministers of Uttar Pradesh, Andhra Pradesh, Rajasthan and Maharashtra -- Akhilesh Yadav, N Chandrababu Naidu, Vasundhara Raje and Devendra Fadnavis -- respectively.
Ratan Tata, Mukesh and Anil Ambani and Gautam Adani were among those from the business community at the banquet. Reserve Bank of India Governor Raghuram Rajan and Nobel laureate Kailash Satyarthi were also there.
Sachin Tendulkar, Congress Vice President Rahul Gandhi and tennis star Sania Mirza had expressed their regret for not able to attend the banquet.
For the full menu, click HERE
REDIFF RECOMMENDS:
Mrs O arrives wearing desi designer Bibhu Mohapatra's creation