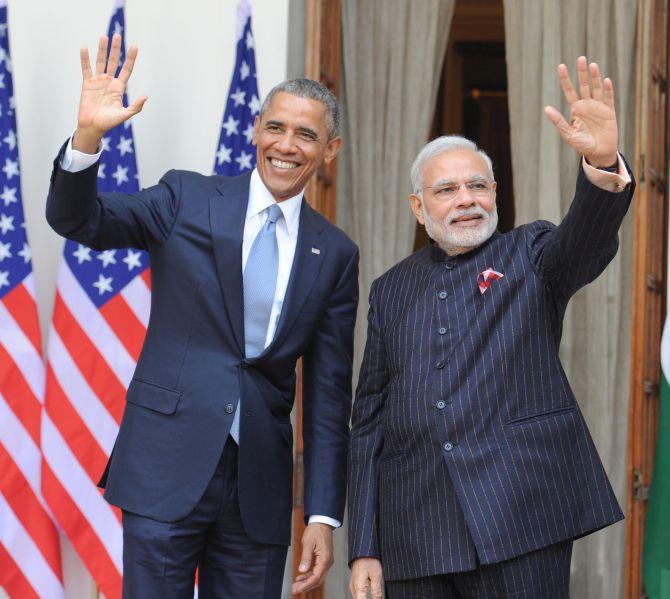 Prime Minister Narendra Modi and United States President Barack Obama surely put the India-US relationship in fast-forward mode. But five things deserve careful attention.

1. This is the second time in a row that an India-US joint statement mentions the South China Sea. This time, it is mentioned in a way that China just cannot ignore.

The US-India Joint Strategic Vision for the Asia-Pacific and Indian Ocean Region notes, 'Regional prosperity depends on security. We affirm the importance of safeguarding maritime security and ensuring freedom of navigation and over flight throughout the region, especially in the South China Sea. We call on all parties to avoid the threat or use of force and pursue resolution of territorial and maritime disputes through all peaceful means, in accordance with universally recognized principles of international law, including the United Nations Convention on the Law of the Sea.'

2. For the last few years China has been trying to limit India to a "South Asia pocket", but Modi is ambitious. He wants India to be spoken about in a global context. America has in the same document helped India to anchor in the Asia Pacific context to begin with.

It says, 'In order to achieve this regional vision, we will develop a roadmap that leverages our respective efforts to increase ties among Asian powers, enabling both our nations to better respond to diplomatic, economic and security challenges in the region. As part of these efforts, the United States welcomes India's interest in joining the Asia Pacific Economic Cooperation forum, as the Indian economy is a dynamic part of the Asian economy.'

3. At the press conference following the Modi-Obama summit, Foreign Secretary Sujatha Singh could not be quizzed on the nuclear deal due to "time constraints".

Even though Sujatha Singh claimed that the deal has been done, the fine print is probably not done yet. The government seems to be wary of negative headlines before President Obama leaves the country.

Due to the sensitivity of the issue and the Bharatiya Janata Party's past history of opposing tooth and nail certain conditions of the Civil Liability for Nuclear Damage Act, 2010 and favouring the supplier's liability clause all details have not been disclosed.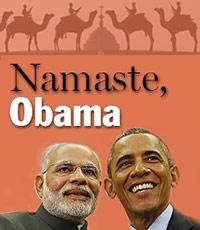 The subject matter of 'supplier's liability' is in an uncertain zone because the documents and details have not yet been released. Before the contact group, to remove the deadlock in the nuclear deal, met in London recently, the suppliers of nuclear power plant equipment were to bear the financial liability in case the operators sued them in a Bhopal type of mishap. Now, the diplomats on both sides have come up with the idea of an insurance risk pool.

This idea was first mooted by the Manmohan Singh government. It appears Modi liked the idea. Before the discussions started with the Americans, the Government of India had no financial responsibility to bear, but now according to whatever the Indian diplomats revealed on Sunday evening, there is some indirect cost involved on the government's part.

Indian insurance companies representatives told the media later in the evening that five Indian insurance companies will contribute Rs 750 crore (Rs 7.5 billion) to the pool. The rest of the money will be contributed by the Government of India to operationalise the nuclear deal with America.

One insurance company representative told a business newspaper that 'This will cover both the operators and suppliers and will be functional as soon as the need arises.'

4. It was an embarrassment for India when Obama criticised Russia and President Vladmir Putin on Indian soil when asked a question by an American journalist on the situation in Ukraine.

'We are deeply concerned about the latest break in the ceasefire and the aggression that these separatists -- with Russian backing, Russian equipment, Russian financing, Russian training and Russian troops -- are conducting,' Obama said.

Then, with Modi was standing next to him, Obama added, 'I will look at all additional options that are available to us, short of military confrontation and try to address this issue. And we will be in close consultation with our international partners, particularly European partners.'

The American president named President Putin -- who leads India's most durable ally -- as well. 'If Mr Putin and if Russia are hell-bent on engaging in military conflicts,' Obama said, 'their military is more powerful than Ukraine's.'

5. Sunday was distinctively successful for India and the United States and for Prime Minister Narendra Modi.

Modi, 64, addressed Obama, 53, by his first name Barack. Their personal chemistry was made a public issue and was acknowledged by Modi who went on to say that, 'When away from the cameras, we talk with each other informally, we know each other closely. Barack and I have developed a friendship, and due to this openness, we can talk easily over phone, we can share a joke and laugh.'

Obama did not addressed Modi as Narendra. Back home, Obama is not known as a sentimental guy. Cerebral, he is said to be emotionless outside his family, passionless while working or tackling issues and in demonstrating his inner self.

Back in 2009 an American columnist noted that many Democrats felt that Obama's White House is 'cautious and emotionless' unlike his election campaign that took him to 1600, Pennsylvania Avenue.

Obama's first campaign was full of passion and clarity, but not his administrations. So, there is a clear limit to the talk of personal chemistry' between Narendra Modi and Barack Obama.