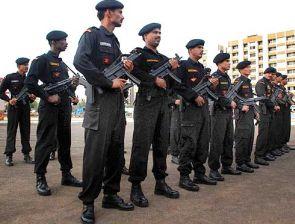 The National Security Guard, which has till now trained its commandos in lethal operations leading to killing of terrorists, has re-oriented its modules in honing skills of the 'Black Cats' to ensure hostage safety in counter-terror and hijack scenarios.
Five years after the country's federal contingency force proved its mettle in combating and killing nine heavily armed Pakistan-based terrorists after a 60-hour siege in Mumbai in 2008, NSG has put its entire thrust on increasing expertise in counter-terror and counter-hijack operations rather than VIP security duties.
After a study of emerging terror threats in urban areas, the commanders of the premier commando force decided to slightly tweak the training of these specially chosen troops and include an "essential component" of hostage rescue in the operations manual.
"The latest example to understand such a scenario is the recent terrorist siege to a mall in Kenya's Nairobi. The terrorists kept on killing and blazing for few days with people trapped inside the large complex. The special forces operations were restricted because people were held hostage.
"The same situation was seen in Mumbai in 2008 when people were held up in rooms in big five-star hotels. Learning from that experience, the commandos' job is not only to neutralise the terrorist but also ensure that the hostages are safe," says the blueprint of the manual.
It was not that the NSG was not training its strike squads for such a mission but now the stress is on hostage safety as this is what trends in terror incidents worldwide reflect.
NSG commandos are now being trained in skills that require them to be conversant with urban terror situations where terrorists have to be killed while keeping in mind safety of hostages. At the same time, the commandos have to come out victorious.
"If the hostage is rescued safe, all other dimensions of a hijack or terror situation come under control to a large extent," a former commander of the force said.
For the first time in its three-decade old history, the NSG has also begun training its troopers, brought on deputation from police and paramilitary forces, in military tactics of undertaking counter-terror operations.
The formations of the NSG are segregated into five units, two Special Action Groups manned by officers and jawans from the army and three SRGs comprising personnel from para-military forces.
The NSG was raised under an Act of the Parliament in 1984 as a federal contingency combat force with specially trained troops in its 24X7 alert contingents.
During the 26/11 Mumbai operations, codenamed 'Operation Black Tornado', the NSG lost two commandos in the three-day operations.