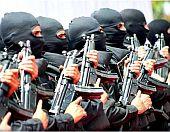 The National Security Guard on Saturday rejected allegations of financial irregularities made by a former commando, saying all gift cheques the force received for the 26/11 Mumbai operation have been accounted for and in case of personal ones, they were returned.
The NSG headquarters in New Delhi issued a point-wise rebuttal and clarification on the claims of former commando Naik Surender Singh, who had raised issues related to the management of cheques and awards bestowed on him and other 'black cats' for recognition of their services during the 2008 terror attacks.
The NSG said a number of cheques which were sent for individual commanods were, on the instructions of Home Ministry, returned with an appeal that these could only be accepted if they are issued in the name of 'NSG welfare fund'.

"Fifteen cheques amounting to Rs 22 lakh were received from Shri Deep Kapuria, Chairman and Managing Director, Hi-tech Gears Ltd, Gurgaon payable to serving personnel who were injured during 'Op Black Tornado' (Mumbai operation). This included one cheque No 409796 dated 09.01.2009 of Rs 2 lakh in favour of Surender Singh."

"The proposal regarding acceptance of financial assistance was referred to MHA and same was returned back with intimation that proposal had been considered under CCS (Conduct Rules) and same had not been agreed to by the Competent Authority."
"However, it was informed that it would be appropriate that the money should be deposited in NSG Welfare Fund. Therefore, all the 15 cheques amounting to total of Rs 22 lakh including cheque No.409796 dated 09.01.2009 of Rs two lakh in favour of Surender Singh were returned to Deep Kapuria. No amount was received back," NSG Group Commander (Intelligence) Ajay Singh said in a statement.
Singh had claimed that NSG commandos, who were injured in the 26/11 operation, received a "number of gifts in the form of cheques" but the force had not dispersed them to the people concerned.

In one case, the NSG statement said, four cheques of Rs 2.5 lakh each, were "disbursed by Royal Western India Turf Club in the name of Captain A K Singh, Naik Manish Kumar, Commando Sunil Kumar Jodha and Commando Sunil Kumar Yadav" who were the strike squad members of 'Operation Black Tornado' undertaken in 2008 in Mumbai.
These cheques were directly received and distributed by the 51 Special Action Group (SAG), the counter-terror unit which conducted the said operation.
The NSG also cited the instance of one cheque which could not be encashed as it had bounced.
"As regards receipt of Rs 1.11 lakh received from Priyadarshini Vikas Mandal vide cheque No 554122 dated 28.01.2009, the same was returned back dated 20.04.2009 with intimation that same could not be encashed from bank due to insufficient funds," the statement said.
Indian cricket captain M S Dhoni, NSG said, "had contributed a sum of Rs 7 lakh to NSG central welfare fund vide cheque No 102937 dated 19.01.2009 and the same was deposited in central welfare fund for welfare activities of NSG personnel. The cheque was not issued in the name of any individual."
The NSG reiterated the same facts that were earlier stated by the Defence Ministry saying all care had been taken to pay entitled benefits to Naik Surender Singh.
The commando force also added in the statement that no amount, as pointed out by the former commando, of Rs 61,951 was received by them.
"A sum of Rs 28,000 was received in central welfare fund of NSG from Amaltash resident welfare association, Sushant Lok Sector-28, Gurgaon vide letter dated  03.03.2009 and same was deposited in CWF for welfare activities of NSG personnel. The cheque was not issued in the name of any individual," the statement said.