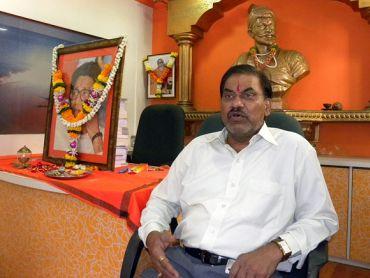 Balasaheb Thackeray would have been so happy if Kasab was hanged during his lifetime, 26/11 survivor and Shiv Sainik Vijay Surve tells Vaihayasi Pande Daniel.

For Vijay Surve, chief of five Shiv Sena shakhas (branches) in Colaba, South Mumbai, 26/11 was the day he narrowly missed being mowed down by an AK-47 belonging to either Abu Umar or Babar Imran at Nariman House.

For his support to the National Security Guards, during Operation Black Tornado, to flush out the Pakistani terrorists from Nariman House, he received a certificate of commendation from the NSG.

Today, Surve is both elated and sad.

Happy, because the sentence handed out to the surviving Pakistani terrorist Ajmal Kasab was finally honoured.

And sad, because he wished it had happened just a few days earlier. He speaks to Rediff.com in fiery, blistering Hindi:

I wish this execution had happened when Balasaheb Thackeray was still there in our midst, he would have felt a lot of happiness. He was a genuine desh bhakt (patriot).

And for him it was a big problem that the government was not allowing Kasab to be hanged. (He wondered) why are they delaying? They should have executed him long ago. There were enough people unkey khilaf (who witnessed what he did). Why were they scared to hang him?

And they have hanged him today… But in such a fearful, hasty way!

Was he Shaheed Bhagat Singh, who the British had to hang quietly, because they knew that desh mein gazab ho jayega (the country would be in an uproar)?

Why couldn't they have executed Kasab openly?

This means that even today you (he is referring to the government) are feeling the pressure from Pakistan. You have hanged him, but you have done it in such a frightened fashion?

So even today you are scared of Pakistan.

That they can attack? Scared of a terrorist attack? But who are the terrorists? The Pakistanis are terrorists. Who trained these fellows (the 26/11 terrorists)? (Army) Majors in Pakistan trained them!

I mean, isn't Dawood Ibrahim (the fugitive gangster) living there with the blessings of Pakistan?

Osama bin Laden had also slipped in there and hid with their dua (blessings). But unko ghus ke mare (the Americans came in quietly and killed him). Hindustan does not have that courage. Americans jaise, guts nahin (our government doesn't have the guts that the Americans have).

If they want to, they (the government) can do it. But you need guts for that. We don't have this kind of thinking.

They have given this sentence (to Kasab) nervously, timidly like a band of thieves. What was the need? This means that you still fear them.

Why didn't you also hang Afzal Guru, at the same time -- one in Delhi and one in Mumbai. The issue would have been over. Why are you nurturing him?

This was the issue that Balasaheb was shouting about for four years. Finish him off (he said).

Balasaheb is not here, but his soul will at least get peace that this has finally come to pass. He will be happy.
Image: Vijay R Surve  Photograph: Vaihayasi Pande Daniel