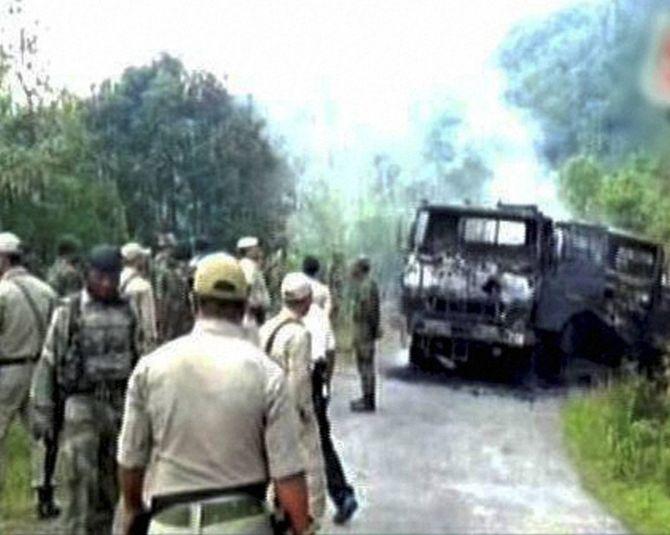 National Socialist Council of Nagaland-Khaplang, a group which is allegedly responsible for killing of 18 army personnel in Manipur, has been declared a terrorist organisation under the stringent anti-terror law.
In a gazette notification issued recently, the government declared NSCN-K, all its front organisations and formations as a terrorist organization under the Unlawful Activities (Prevention) Act, 1967, a home ministry spokesman said.
The group, which had signed a peace agreement in March 2001, had withdrawn unilaterally from the ceasefire agreement in March this year after it was alleged that the area along Indo-Myanmar border being under their control was fast turning out to be 'safe-zone' for terrorists of United Liberation Front of Asom faction led by Paresh Barua, the National Democratic Front of Bodoland led by I K Songbijit, and the Meitei armed groups like the People's Liberation Army of Manipur.
The spokesman said that the NSCN-K has resorted to terrorism by killing innocent civilians and security forces and engaged in other violent activities including the June 4 attack on an army convoy in Chandel district of Manipur.
This case is being probed by the NIA, which has announced a bounty of Rs 17 lakh for providing information about two top leaders of militant NSCN-K including its chief S S Khaplang who were allegedly behind the strike.
The probe agency declared a cash reward of Rs seven lakh for Khaplang while a Rs 10 lakh bounty was announced for Niki Sumi, self-styled chief of the armed wing of NSCN-K, who is alleged to have led a group of rebels on June 4.
Khaplang is a resident of Myanmar, while Sumi hails from Nagaland. There are reports that 75-year-old Khaplang was in a hospital and later shifted to Taga, a place which is at a junction of India-Myanmar-China border.
Army trucks were attacked with 'Lathod guns' and grenades by suspected terrorists of NSCN-Khaplang, killing 18 soldiers and injuring 15 others in the Manipur attack.
The militants had formed three groups to carry out the attack and explosive-laden cans were planted alongside the road to maximise the damage, the sources said.
NSCN-K, which walked out of a ceasefire agreement with India in March this year, has been involved in a series of attacks in tandem with some other militant groups in the north-east under the banner of 'United Liberation Front of South East Asia'.