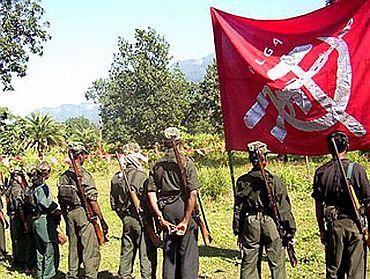 After spreading their tentacles to the troubled northeastern state of Manipur around the year 2008 with the help and cooperation from the outlawed People's Liberation Army, Maoists have made further inroads into the region by setting up active cells in different parts of Assam and Arunachal Pradesh.
Security sources informed that Maoists have already set up a network in five districts of Assam; namely: Tinsukia, Dibrugarh, Lakhimpur, Dhemaji and Golaghat. Several Maoists cadres were killed in encounter with security forces in Sadiya area of eastern Assam's Tinsukia district last year when surveillance against Maoists activities was mounted in Assam following intelligence inputs.
The National Investigation Agency registered a case in July 2001 and started investigation into Maoists activities in the northeast in view of increasing activities of Maoists in the region.
The NIA filed the first chargesheet in the special court in Guwahati on May 21, 2012 and an additional chargesheet was filed on December 19, bringing to light many facts about Maoist operations in the region.
The NIA's investigating team arrested PLA leader Ibotombi Singh on May 2 this year for having close links with Maoists, while a senior Maoist cadre Pallab Borbora alias Prafulla was arrested from Merapani area in Golaghat district bordering Nagaland.
Three more Maoists cadres were also arrested by the NIA in Assam this year. The arrest of senior Maoists leader from Jharkhand, Anandji from a hotel in Tezpur town of north Assam earlier this month bears significance about Maoists' growing interests in this troubled region.
Security sources informed that Anandji had come to Assam mainly for arranging procurement of weapons besides consolidating the base in northern Assam. He was supposed to meet Assam-based Maoists leader Aditya Bora and another senior Maoist Tingraj Orang somewhere along the Assam-Arunachal Pradesh boundary.
But the meeting did not take place because of Anandji's arrest on the day after his arrival in Tezpur.
The Maoists have a plan to set up a training base in some remote and inaccessible area in the Tinsukia district early next year. Though the arrest of Anandji served a blow to the plan, the Maoists have not discarded it yet.
The Maoists had already signed a deal with the PLA for arms supply, and in lieu of it the red brigade promised to supply ammonium nitrate to use it as an explosive.
Sources informed that PLA had sent its trainer to Jharkhand to Maoists cadres on use of sophisticated weapons. Two such training camps were organised during September and November last year.