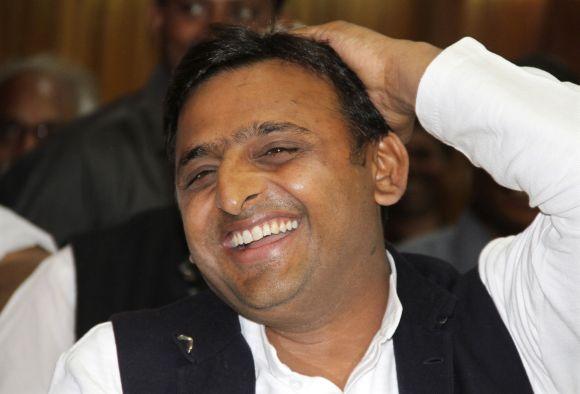 With the political scene hotting up towards an early Lok Sabha election, both the ruling Samajwadi Party and its sworn rival, the Bahujan Samaj Party were desperately vying for the Brahmin vote.
And Sunday marked the beginning of a battle for the Brahmin vote -- with the ruling party hosting a loud Parshuram Jayanti celebration at the SP state headquarters in Lucknow, and the BSP staging a parallel 'Brahmin Bhaichara Sammellan' in Maharajganj in the Eastern corner of the state, about 300 km from Lucknow.
Interestingly, both SP chief Mulayam Singh Yadav as well as BSP supremo Mayawati chose top stay away from their respective party meets. While Mayawati was not scheduled to attend the show, Mulayam chose to stay away at the eleventh hour, when it was announced that he had to rush to Mumbai for some "urgent work".
It was another matter that umpteen hoardings and banners put up along the city's main thoroughfares and junctions were emboldened with announcements about Mulayam to be chairing the session.
Besides Mulayam, his son Chief Minister Akhilesh Yadav and uncle Shivpal Yadav, the hoardings proudly displayed the names of all prominent Brahmins closely associated with the Samajwadi Party.
These included state assembly speaker Mata Prasad Pandey and several Brahmin ministers including the Indian Institute of Management-educated Abhishek Misra.
Both BSP general secretary Satish Chandra Misra and Akhilesh left no stone unturned to lambast each other's party on this occasion. If Misra went about accusing SP of targetting Brahmins, Akhilesh made it a point to tell his audience how many Brahmins were implicated in false cases under the Dalit Act during the Mayawati regime .
The BSP show in Maharjganj was organised by Kushal Tiwari, son of one-time dreaded mafia don-turned-politician Hari Shankar Tiwari, who has himself been a party hopper and also remained minister under different regimes.
"Don't forget that it was the SP government which scrapped Mayawati's decision to introduce reservation in promotions," Akhilesh told the gathering amid resounding applause .
"I am aware of the false cases registered during the Mayawati regime against Brahmins ' but you can rest assured that all such cases will be withdrawn," the chief minister assured, somewhat in the same manner as he had assured Muslims on dropping of false terror cases against Muslim youth.
Shivpal Yadav was described as some kind of 'avatar' of Lord Krishna, while SP leader Pawan Pandey went to the extent of terming Misra as gimmick.
"Failing to draw enough crowd at his Brahmin meet, Misra chose to play melodrama by fainting on the stage," said Pandey, while dismissing the BSP bid to woo the community as an "exercise in futility."
Apparently rattled by reports of huge attendance at the SP show in Lucknow, Misra declared in Maharajganj, "SP is simply doing drama by playing up the Parshuram Jayanti; they are simply trying top copy the BSP that was first to look into the welfare of Brahmins."
He added, "And let me tell you , today's show is the beginning and end of SP's display of love for Brahmins while BSP is all set to hold 35 such Brahmin meets in different parts of the state."
He said, "Traditionally, the SP has been the biggest enemy of Brahmins; and the party's injustice towards the community is amply demonstrated in a spate of recent incidents."
Terming the entire SP exercise as a 'farce', he alleged,"A Brahmin was stripped and paraded naked with a blackened face on the streets of Etawah , several Brahmins were murdered by Yadavs in Mainpuri while the head of a Brahmin youth was chopped in Kannauj and presented on a platter before a top SP leader."
Echoing BSP supremo Mayawati's ultimate plan, he said, "If 16 per cent Brahmin population were to join hands with 24 per cent Dalits, who were committed to the BSP, nothing could stop us from riding on to power."