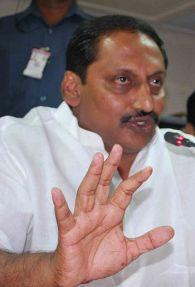 Andhra Pradesh Chief Minister Kiran Kumar Reddy on Tuesday dismissed as "rumour" reports that he has threatened to quit if the Congress gives its nod for formation of a separate Telangana.
"It's all rumours," he told reporters when asked about the reports. Reddy's clarification came after his hour-long meeting with All India Congress Committee General Secretary (in-charge Andhra Pradesh) Digvijay Singh.
Earlier, Congress spokesperson Renuka Chowdhary stoutly rejected the reports, terming them as a "canard" spread by vested interests.
"I am very sorry that such vastly distorted news is put out without being substantiated. There was no question of the Andhra Pradesh Chief Minister Reddy saying that he would resign. He may have expressed his opinion, his emotional pain. Nothing other than that. His father has been a Congressman.
"There is no doubt that despite his personal opinion, if the high command takes some decision on some issue, he will stand by that," Chowdhary said.
She said that she was "alarmed" that there was talk of the CM's resignation and suspected that it could be a "canard being spread by vested interests" as local bodies' elections are scheduled in the state and this could impact the party.
Chowdhary, who also hails from the Telangana region, and is considered not to be in favour of the creation of a separate state said this was a "very complex" situation. Reports had said that the Congress Working Committee's likely decision in favour of bifurcation of Andhra Pradesh may trigger protests from within the party.
Reddy, who hails from Rayalaseema region, is said to be strongly opposed to the division of the state. Congress leaders from Andhra and Rayalaseema regions had held closed-door meetings with Reddy on Monday in Hyderabad.