'We seem to be in a situation where we can do little, and nothing needs to be done anyway.'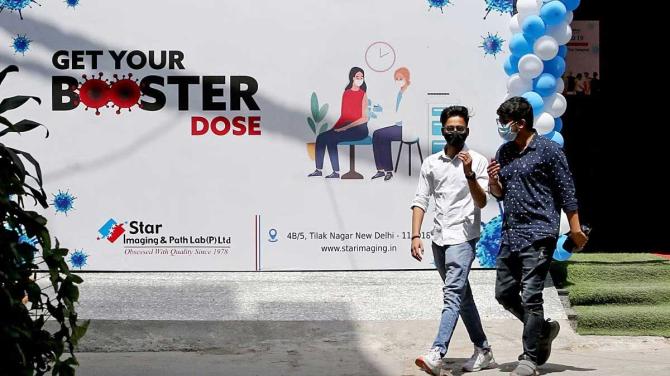 As India's COVID-19 daily case count dips below the 100-mark, approvals for vaccines to be used as a mix-and-match dosing third shot are coming through.
After Bharat Biotech's nasal vaccine got the nod as a heterologous booster for the Covishield and Covaxin two-dose primary regimen, it's the turn of Serum Institute of India's Covovax.
The Drugs Controller General of India has approved the market authorisation for the Serum Institute's Covovax -- the Novavax vaccine made in India -- as a heterologous booster dose for adults who have been administered two doses of Covishield or Covaxin.
In 2022, the Drugs Controller approved Cobevax, Biological E's vaccine, as a heterologous booster after Covishield or Covaxin.
This opens doors for Serum Institute to start marketing this vaccine in the private market.
Serum Institute has a stock of around 20 million doses of Covishield, the AstraZeneca-Oxford vaccine.
It is already producing the Novavax vaccine, branded Covovax for India. Covovax is manufactured through technology transfer from Novavax. It has been approved by the European Medicines Agency for conditional marketing authorisation and has a WHO emergency use listing.
"We are producing the Novavax vaccine; it has been exported so far primarily. We have already exported millions of doses to the US. We have stocks for India as well," said a company source.
It will be interesting to see how Serum Institute prices Covovax for India.
Bharat Biotech has priced its nasal vaccine iNCOVACC (BBV154) at Rs 800 per dose for the private market and Rs 325 for large-volume government procurement.
Corbevax is also priced at Rs 800 per dose.
Demand for vaccines is waning in India, and public health experts are also not in favour of pushing for boosters.
Dr Jayaprakash Muliyil, an epidemiologist at CMC Vellore and member of the working group of the National Technical Advisory Group, told Business Standard, "None of the existing vaccines can prevent emerging variants of Omicron."
"These variants target primarily the lining of the upper air passages. Consequently, they induce minor symptoms, but are highly infectious," explains Dr Muliyil. "We seem to be in a situation where we can do little, and nothing needs to be done anyway."
As such, demand for vaccines, especially booster shots, has remained low since India has yet to experience a case spike like many other countries.
Demand for boosters saw a spike in the first week of January after the China situation escalated.
Public health experts in India belonging to the Indian Public Health Association and the Indian Association of Preventive and Social Medicine have recently said that it is time to start limiting vaccinations in India (which already has a high coverage) to co-morbid people who have not been naturally infected.
'With a very high proportion of the population having been exposed to SARS-CoV-2 infection, vaccination against COVID-19 (after recovery from natural infection) will not provide any additional benefits. On the other hand, vaccinations following natural infections may have the potential for some harm, however rare,' the report has said.
'It would be prudent to err on the side of safety and not insist on vaccination for those who have acquired immunity following natural infection,' the report added.
They have recommended vaccination for those with co-morbidities or who never had COVID-19.
Unnecessary and irrational use of vaccination against COVID-19 will divert resources and attention from other pressing public health tasks.
Resources, both financial and human, saved from avoiding unnecessary vaccination and other unnecessary interventions can be better used to strengthen public health care facilities.
DCGI approved Covovax for restricted use in emergency situations in adults on December 28, 2021.
It was approved in the 12-17 age group on March 9, 2022.
Approved in children aged 7-11 years on June 28, 2022, subject to certain conditions.
Now Covovax approved as a mix-and-match booster after two shots of Covishield or Covaxin.
Bharat Biotech's nasal vaccine is priced at Rs 800/dose; Biological E's Corbevax priced at Rs 800/dose.