We should be relieved that we got the doses but we must also know where they came from and who was and who was not responsible for this achievement, notes Aakar Patel.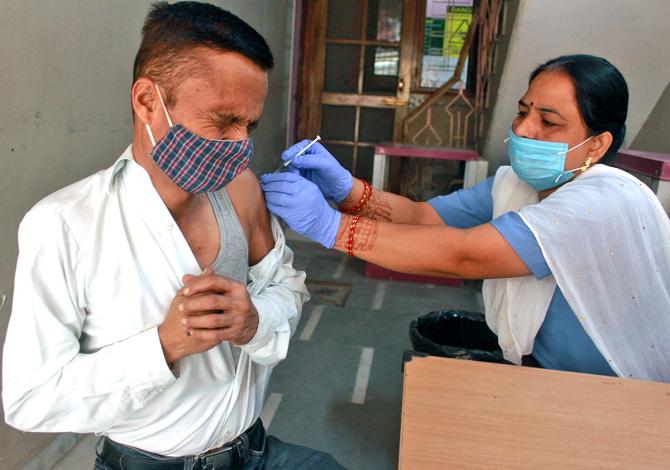 India has administered one billion or 100 crore doses of vaccine and this is a fine achievement.
Where did this 100 crore (1 billion) doses come from and what was the role of government in procuring them? This needs to be understood.
On August 7, 2020, the Serum Institute of India, the country's largest private vaccine manufacturer, signed an agreement with the global vaccine alliance GAVI and the Bill and Melinda Gates Foundation to supply vaccine to 92 poor countries by the first half of 2021.
The total number of vaccines the Serum Institute would produce in 2021 of Covishield would be 100 crore (1 billion) doses.
This would be distributed among the 92 nations with a total population of 4 billion.
The alliance said that: 'A founding principle of COVAX (Covid Vaccine Global Access) is that access will be equitable. That doesn't just mean ensuring that all countries get fair access to COVID-19 vaccines, it also means having an allocation mechanism, driven by the World Health Organisation, to guide how vaccines are distributed within countries and territories.'
The GAVI alliance would also sell the vaccine produced by the Serum Institute to rich nations, and use that money given upfront to ramp up production in India.
On September 26, 2020, Modi told the United Nations General Assembly that India would deliver vaccines to the world: 'As the largest manufacturer of vaccines in the world, I want to assure the world that India's vaccine production and delivery capacity will be put to help pull out all of humanity from this calamity. India would also help other nations with cold chain and storage facilities.' After this speech the media called Modi the world's 'Vaccine Guru'.
By September 30, 2020, the Serum Institute had been given $300 million (a little more than Rs 2,500 crore/Rs 25 billion) by GAVI to set up the infrastructure to deliver these doses.
The same week, the Serum Institute's owner, Adar Poonawalla, tweeted to prime minister Modi: 'Quick question; will the government of India have 80,000 crores available, over the next one year? Because that's what @MoHFW_INDIA (the health ministry) needs, to buy and distribute the vaccine to everyone in India. This is the next concerning challenge we need to tackle. @PMOIndia'.
He then added: 'I ask this question, because we need to plan and guide, vaccine manufacturers both in India and overseas to service the needs of our country in terms of procurement and distribution.'
If India wanted to vaccinate its population in 2021, it would need to procure the vaccines from somewhere. The government did not do anything.
Till February 2021, India had ordered only 11 crore (110 million) doses while it required 200 crore (2 billion) doses for the eligible population or 270 crore (2.7 billion) doses for all Indians including those under 14, assuming there was no wastage.
Compare India's 11 crore to the numbers ordered and paid for by Canada (33 crore/330 million), the US (120 crore/1.2 billion), UK (45 crore/450 million), Brazil (23 crore/230 million), African Union (67 crore/670 million), Indonesia (19 crore/190 million) and the European Union (180 crore/1.8 billion).
India ordered fewer doses than even Australia (12 crore/120 million), which has a population smaller than India's National Capital Region.
At the end of March 2021, as the second wave began, India unofficially blocked the Serum Institute from exporting vaccines to GAVI that had already been paid for and grabbed them.
Soon after, Adar Poonawalla fled to London because of threats from India's 'most powerful' people.
In May, The Wall Street Journal summed it up: 'Most of the world's poorest nations were left highly dependent on a single vaccine, produced by a single manufacturer in a single country. In a cruel twist, that supplier -- the Serum Institute of India -- ended up engulfed by the world's worst COVID-19 outbreak.'
Because of this, GAVI, which had already paid upfront for the vaccines, did not get its deliveries.
In a letter to 92 developing nations, GAVI's head wrote, 'Dear Participant, we regret to inform you that, given the heightened Covid-19 crisis in India, Covax no longer expects deliveries ...'
When asked whether the strategy to depend on India was flawed, he said: 'We hear a lot of criticism, and the truth is, we've tried to do something that we think is the right thing. Hindsight's 20:20. Should we have not invested in India? Well, that was the fastest way to get there.'
Not only was it not the fastest way, it turned out to have sabotaged the global fight because of the mess India was in by April.
The Serum Institute was due to ship 14 crore (140 million) doses by this time but was stopped by the government after it had sent fewer than 2 crore (20 million).
Far from being Vaccine Guru and saving the world, India disrupted what others had planned for, paid for and organised.
In October, the government said it would now allow the Serum Institute to resume exports.
This is then the story of the 100 crore vaccines.
We should be relieved that we got the doses, but we must also know where they came from and who was and who was not responsible for this achievement.
Aakar Patel is a columnist and writer and you can read Aakar's earlier columns here.
Feature Presentation: Aslam Hunani/Rediff.com