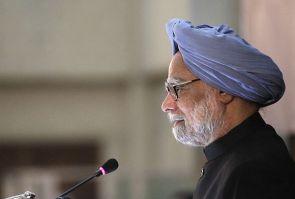 One of the two men accused of making hoax calls and demanding money by impersonating Prime Minister Manmohan Singh and Rashtriya Janata Dal leader Lalu Prasad was on Friday refused bail by a Delhi court which said there is a likelihood of destroying the evidence if released from jail.
Chief Metropolitan Magistrate Lokesh Kumar Sharma dismissed accused Kishan Kumar's bail application, who was arrested along with co-accused Vikas Datt, both employees of T­Series Super Cassettes Industries.
"In view of the subsequent developments during the investigation, especially the fact that present accused (Kishan) had forged the documents to obtain different SIM cards in the names of different persons, I am of the opinion that if the accused is admitted to bail at this initial stage of investigation itself, then there is a likelihood of his either destroying the evidence or hampering the investigation in one way or the other."
"Hence, the application as moved is dismissed," the court said.
Kishan, 35, and Vikas, 33, are in judicial custody till October 10. However, Kishan's another aide Amit Kumar is still absconding.
In an FIR registered on September 27, the firm's director Ved Prakash Chanana said he had been flooded with hoax calls for the last few months.
Chanana, a resident of Greater Kailash-II, alleged that others he had impersonated include BJP MP Shatrughan Sinha and former Union Minister Raghupati Sevugan.
Seeking bail, Kishan's counsel Yashvir Sethi argued before the court that his client was working with T­Series company and was illegally sacked without payment of his dues and when he demanded his dues, he was implicated in the present "false" case.
Opposing Kishan's bail plea, the probe agency said one mobile phone, along with one SIM card, has already been recovered from the possession of the accused, which was used in making extortion calls to the complainant's employee Bir Singh in the imitated voice of Lalu Prasad Yadav as well as Shatrughan Sinha.
The Crime Branch of Delhi Police had said Kishan and his aides were making hoax calls from three different numbers to officials of the firm to demand Rs 20 lakh and seek other favours.
The accused have been booked under section 419 (punishment for cheating by impersonation), 507 (criminal intimidation by an anonymous communication), 387 (extortion), 511 (attempt to commit an offence), 120-B (criminal conspiracy) and 20 (destruction of evidence) of IPC.
The defence counsel also said that despite his police remand for one day, nothing could have been recovered either from his possession or at his instance.
However, the police said if the accused is admitted on bail at this stage, he may either flee from justice or hamper the investigation which is at preliminary stage.
It said he might destroy the evidence against him or intimidate the witnesses.
The Crime Branch had also played an audio CD in the court showing the conversation of one person, imitating the voice of Lalu Prasad, with Bir Singh.