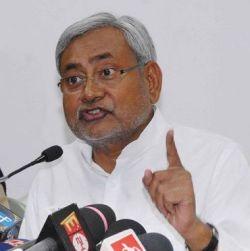 With actor-politician Shatrughan Sinha creating storm through his comments against Narendra Modi and describing Bihar Chief Minister Nitish Kumar as "PM material", the latter on Monday praised the Bharatiya Janata Party leader for his uninhibited opinion.
"Sinha is known for expressing free-wheeling (uninhibited) opinion over current issues which is a healthy tradition," Kumar said praising the Bharatiya Janata Party leader.
On the possibility of the BJP leaders joining Janata Dal-United, the chief minister said, "He (Sinha) has not given any signal that he is no more a part of BJP."
"He is in BJP so it will not be proper for me to answer your question of Sinha joining the JD-U," he added.
Senior BJP leader and former deputy chief minister Sushil Modi told their former ally that it should not harbour any "illusion" about Sinha switching to their side.
Sinha, who has been sulking after denial of role in new election team of Narendra Modi, embarrassed the BJP recently by describing Nitish Kumar as "PM material." The comment came as an embarrassment for the saffron party, which is gunning for Kumar's head after the split in National Democratic Alliance.
Some party leaders were so angry that they demanded the party to crack whip on the Lok Sabha member from Patna Saheb.
Sinha had also met the Bihar CM. Though both of them described the meeting as a "social one", the timing of meeting and mutual admiration the two expressed for each other left the BJP high and dry. A few JD-U leaders even invited Sinha to the ruling party.