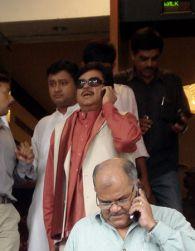 Senior Bharatiya Janata Party leader Shatrughan Sinha expressed sympathy on Tuesday for jailed RJD president Lalu Prasad and said he prayed that he comes out soon with the help of an upper court order.
"As a friend I feel bad for him (for going to jail in the fodder scam)," Sinha told reporters at PatnaAirport.
"In this hour of tragedy my good wishes are with him and Rabri Bhabhi (Prasad's wife)," Sinha, BJP Lok Sabha member from Patna Saheb, said.
Sinha, known for speaking his mind, which on many occasions are contrary to the party versions, said he was speaking for Prasad in his personal capacity as he was a 'good friend'.
"He (Prasad) is an old friend that is why I feel bad," Sinha, who was senior to Prasad in PatnaUniversity, said.
BJP has hailed the CBI court convicting Prasad in the multi-crore rupees fodder scam and sending him to jail in the 17-year-old case.
Sinha, who served as union minister in Atal Bihari Vajpayee's government, said he would pray that Prasad returns home with the help of a favourable order from the high court.