Bihar Chief Minister Nitish Kumar and Delhi counterpart Arvind Kejriwal on Sunday called for opposition unity to take on the Bharatiya Janata Party as the Janata Dal-United leader met the Aam Aadmi Party convenor at his residence in New Delhi and extended 'complete support' to him in the ongoing face-off with the Centre over the control of administrative services.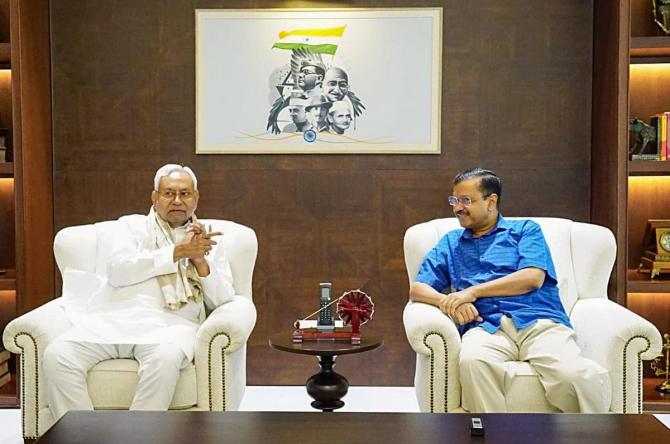 Kejriwal said he would meet leaders of various parties to ensure that any bill brought to replace the recent central ordinance, which virtually negated the May 11 Supreme Court order that ruled in favour of his government, is not passed in Rajya Sabha and also urged Kumar to reach out to them to rally support on the issue.
If the bill is defeated in Rajya Sabha, it will send out a message that the BJP will lose the 2024 Lok Sabha elections, he claimed.
"It will be the semi-final of the 2024 Lok Sabha polls," the AAP national convenor told reporters outside his residence after meeting Kumar and his deputy and Rashtriya Janata Dal leader Tejashwi Yadav.
Kejriwal will be meeting the chiefs of the Trinamool Congress, the Shiv Sena-Uddhav Balasaheb Thackeray and the Nationalist Congress Party this week seeking their support.
Kumar said the Centre's actions were 'strange' and 'baffling'.
"How can you take away an elected government's power," the Janata Dal-United leader asked.
He said Kejriwal is doing good work in Delhi and it's surprising that his government is being stopped from doing its work.
"That's why we are saying that all (opposition parties) in the country should come together," he said.
The BJP hit out at both Kumar and Kejriwal, saying the Bihar chief minister should pay attention to his state which is being pushed into 'anarchy' instead of daydreaming about becoming the prime minister.
Addressing a press conference, the party's six MPs from Delhi said Kejriwal was seeking the support of opposition leaders who he once branded as corrupt.
"There was a time when Arvind Kejriwal used to carry a list of political leaders and considered them as symbols of corruption. But today he is ready to hug Nitish Kumar and Tejashwi Yadav," BJP leader Manoj Tiwari said.
Kejriwal's priority is not to eliminate corruption, but to defeat Prime Minister Narendra Modi, the MP from North East Delhi said and alleged that the AAP chief 'is ready to stoop to any level to save his empire of corruption'.
The Centre promulgated the ordinance on Friday to create a National Capital Civil Service Authority for the transfer of IAS and DANICS cadre officers and disciplinary proceedings against them.
This came a week after the Supreme Court handed over the control of services, excluding those related to police, public order and land, to the elected government in Delhi.
The Centre has also filed a review plea in the apex court against the verdict. Kejriwal had on Saturday said that the ordinance was 'unconstitutional' and they will challenge it in the apex court.
Speaking to reporters after the meeting on Sunday, Kejriwal said he will personally reach out to the chiefs of all opposition parties to seek their support in the matter so that any bill brought by the Centre to replace the ordinance is defeated in Rajya Sabha.
"Day after tomorrow (Tuesday), I have a meeting with West Bengal Chief Minister Mamata Banerjee in Kolkata at 3 pm. After that, I will meet every party's president to seek their formal support for defeating the bill when it comes in Rajya Sabha," Kejriwal said.
"I have also requested Nitish Kumar ji to talk to all the (opposition) parties in this regard," he added.
According to AAP sources, he will meet former Maharashtra chief minister and Shiv Sena-UBT leader Uddhav Thackeray in Mumbai on Wednesday and NCP supremo Sharad Pawar on May 25.
An ordinance has to be ratified by Parliament within six months.
The AAP has 10 MPs in Rajya Sabha and one MP in Lok Sabha.
The Bihar chief minister said that he will make efforts to bring opposition parties together in support of Kejriwal.
"We will hold further meetings. We are trying to ensure that the maximum number of opposition parties come together and a nationwide campaign is launched to demand that laws are followed and there is mutual harmony and brotherhood in the country.
"Efforts are being made to create conflicts among people. Such things should be stopped," Kumar said.
Replying to a query, Kumar said he will also speak to the Congress leadership on the issue of the ordinance.
"I don't think anybody will oppose it (supporting Kejriwal). We will talk to them," he said.
Kejriwal was among the few non-BJP chief ministers not invited by the Congress to the swearing-in ceremony of its new government in Karnataka on Saturday, an event seen as a show of unity by opposition parties.
Kumar, on the other hand, had attended the event.
Extending his party's support to Kejriwal, Bihar Deputy Chief Minister Yadav alleged the Centre is "continuously troubling and harassing" non-BJP governments in different states.
"We have come here to extend our support to Kejriwal. The BJP government is doing injustice to him," he said.
"There is a clear threat to democracy. They want to change the Constitution and we will not let that happen at all," he claimed.
Sunday's meeting was the second between Kumar and Kejriwal in over a month.
Kumar had earlier met Kejriwal here on April 12 as part of his efforts to bring opposition parties together ahead of the 2024 Lok Sabha elections.
With Kejriwal's relations with the Congress far from smooth, Kumar has the task of building a working relationship between the two as he also sees the grand old party as a critical player in any Opposition unity bid.
The AAP has grown in Delhi and Punjab by occupying the space once largely seen as Congress territory. A section of Congress leaders believe that reclaiming the constituency is the key to the party's revival in these states and any compromise on it can hamper their plans.
Kumar has been meeting regional satraps as part of the unity exercise which is yet to take a concrete shape.
Prem Shukla, the BJP's national spokesperson, said meeting other leaders is Kumar's right but he has not been paying attention to his own state.
"He is daydreaming of becoming the prime minister. Instead, he should discharge his duties as Bihar chief minister, his constitutional responsibility," he said.
Sanjay Mayukh, a BJP MLC in Bihar, said Kumar should come out of his 'dream world' as there is no vacancy for the prime minister's post.
People of the state will never forgive him for pushing it deeper into crime and corruption, he claimed.