The Congress is planning to call a meeting of Opposition parties in May.
It is possible to keep all possibilities open in case Karnataka yields a hung House, leading to a recalibrated Opposition.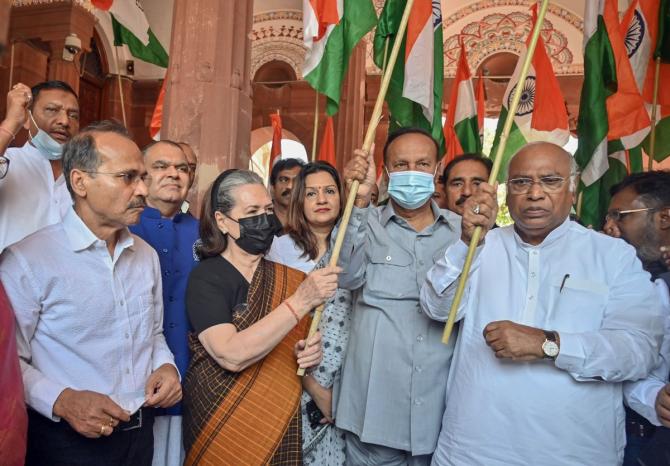 Nationalist Congress Party leader Sharad Pawar's statements, ostensibly in defence of the Adani Group, threw the anti-Bharatiya Janata Party Opposition in a tizzy.
His remarks could not have come at a worse time: At the height of demand for a joint parliamentary committee to investigate government-Adani linkages which the government rejected and because of which Parliament was paralysed.
Pawar said the demand was misplaced, especially after the Supreme Court had set up a committee. He also said that efforts to unify the Opposition and set it against the government based on the activities of a business house would not lead to lasting Opposition unity.
This, he said, could only be achieved with a specific programme and direction.
'Opposition unity is very important, but there should be clarity on issues. Today, Opposition parties have different ideologies and ways of thinking. People like us, want Opposition unity, but our thrust is on development. We have other people who want Opposition unity, but with this Leftist thinking, they do not want to move away from it. Opposition unity will only work with a specific programme and direction; if this is not there, any Opposition unity will not be beneficial to the country,' Pawar said.
'The NCP may have its view, but 19 like-minded parties are convinced that the prime minister-linked Adani Group issue is real and very serious,' Congress Spokesperson Jairam Ramesh said in a statement hours after Pawar's remarks.
Rhe Opposition, including the NCP, Ramesh said, 'will be together in saving the Constitution and our democracy from the BJP's assaults and in defeating the BJP's divisive and destructive political, social, and economic agenda.'
In a sense, the Congress could be veering around to the view that an attack on the government, based on charges of cronyism, may be neither lasting nor forceful enough to ensure buy-in from the rest of the Opposition.
Broader programmatic unity was needed.
Another glimmer of a platform for broader unity ahead of the 2024 general election was visible when all Opposition parties went to the Supreme Court against the misuse of central investigative agencies like the Enforcement Directorate and the Central Bureau of Investigation.
But proving misuse could be hard, Opposition leaders told Business Standard privately.
Moreover, an issue like this would have limited traction as a tool of mass mobilisation.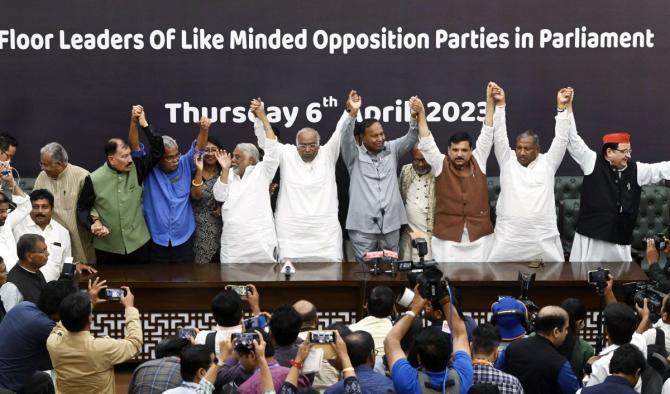 Another attempt to toss an idea into the Opposition mix was the launch of the All India Federation for Social Justice floated by Tamil Nadu Chief Minister Muthuvel Karunanidhi Stalin.
All Opposition parties were invited and they demanded a caste-based census, in itself a tacit acknowledgement that discrimination based on social backwardness must be fought and this could only be done based on a census that included caste.
This is an issue that has riven even the BJP, and Opposition leaders felt it could further roil the ruling party.
Stalin said reservations for the economically poor in the upper castes were equal to taking the country 200 years back.
Three CMs -- Rajasthan CM Ashok Gehlot, his Jharkhand counterpart Hemant Soren, and Bihar Deputy CM Tejashwi Yadav -- attended the meeting, along with Communist Party of India-Marxist General Secretary Sitaram Yechury, Communist Party of India General Secretary Doraiswamy Raja, Samajwadi Party President Akhilesh Yadav, Jammu and Kashmir National Conference President Farooq Abdullah, and others.
Interestingly, the Aam Aadmi Party and Trinamool Congress also attended.
Stalin had his eye on a possible Mandal-like agitation that would especially unite caste-based parties.
Sociologists like Asim Ali feel making caste discrimination a central point to unify the Opposition might not work in the short period Opposition parties have before the 2024 elections.
"If Mandal parties are to climb back from political irrelevance, they need to revamp their ideological content by articulating relevant goals. They should not limit their horizons to settled battles of the past, such as caste reservation," he says.
Day-to-day challenges to unity continue.
For instance, in the upcoming by-election (May 10) for the Jalandhar Lok Sabha seat, the central issue has become how much compensation should be paid to farmers who have lost their crops because of climate-related calamities.
The AAP says it has paid the highest compensation ever; the Shiromani Akali Dal and the Congress say this is not enough.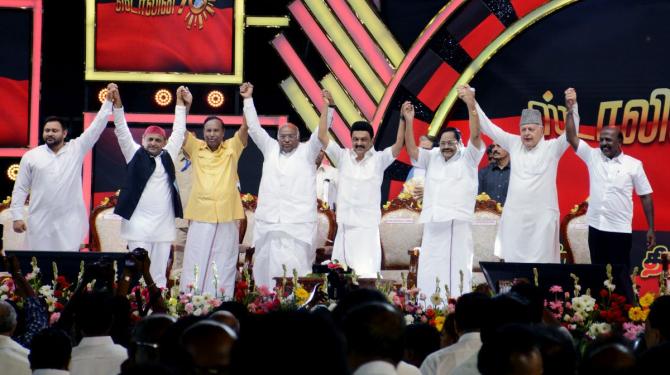 The Congress is planning to call a meeting of Opposition parties.
Party President Mallikarjun Kharge has been calling leaders to ascertain their availability -- and inclination -- to attend.
The Karnataka elections come in the way and it is possible that to keep all possibilities open in case Karnataka yields a hung House, leading to a recalibrated Opposition.
This get-together could be scheduled sometime in May.
But the Next Big Idea is still being internally debated.