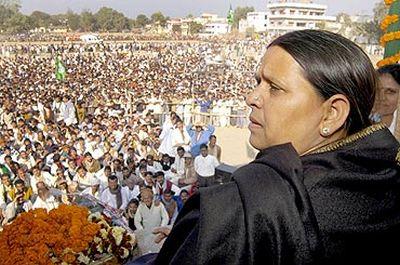 Bihar Chief Minister Nitish Kumar and former chief minister Rabri Devi on Monday said they would not contest the upcoming assembly polls in Bihar.
While Nitish Kumar said he would continue to be a member of the Bihar legislative council, Rabri Devi said that her two sons Tej Pratap and Tejasvi Yadav will contest.

"I will devote my entire time in campaigning," said Kumar, who was declared chief ministerial candidate by the Janata Dal-United, Rastriya Janata Dal, Congress and National Congress Party alliance.

Nitish Kumar said that his focus would be to ensure the alliances' victory in the polls.
"It is my choice to be a member of the Bihar legislative council and I will continue to be its member. There is no question of contesting the assembly polls," Kumar said.

There were speculations in the local media that Kumar would prefer to contest the assembly polls this time, unlike the assembly polls in 2010.

Nitish Kumar has been a legislator ever since his party took over the reins of the state when it came to power with the Bharatiya Janata Party.