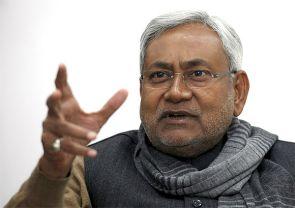 Hailing the Shiv Sena for speaking the 'truth' on Bharatiya Janata Party's role in Bihar's present political situation, senior Janata Dal-United leader Nitish Kumar on Monday said several other parties had echoed the same.
"The Shiv Sena has spoken the truth about things going on in Bihar on the patronage of the BJP leadership," Kumar told PTI in an exclusive interview.
The Shiv Sena on Monday taunted the BJP over the issue of supporting Bihar Chief Minister Jitan Ram Manjhi saying backing him would be a 'sin' as it would be an endorsement of the 'black era in politics'.
"Its not only Shiv Sena, Trinamool Congress, the Bahujan Samaj Party and others have also come out in open to flay the BJP for triggering disturbance in Bihar to prepare ground for President rule," Kumar, who received telephone from BSP chief Mayawati on Sunday night, said.
"The JD-U pre-empted the black deed of the BJP in its new avatar and severed ties well in advance (in June 2013)," Kumar said in reply to a question on the BJP's reported strained relationship with the Shiv Sena and the Shiromani Akali Dal now.
"The Shiv Sena which sided with the BJP when nobody wanted to stand with them is being isolated by the present leadership of the saffron party," Kumar, who served as minister in the National Democratic Alliance rule of Atal Bihari Vajpayee, said.
"The Shiv Sena was victimised by the BJP before forming government with them in Maharashtra," he said, adding that the saffron party in its new avatar was 'playing foul' against time tested allies crushing the model of coalition government presented by its veteran Atal Bihari Vajpayee.
Referring to the BJP's 'hobnobbing' with NCP of Sharad Pawar, he said Prime Minister Narendra Modi had during poll defined it as a 'Naturally Corrupt Party' and used to mock at its symbol 'Watch' by showing time as 10:10 to say in 10 years its corrupt practises multiplied by ten times.
"Vajpayeejee through his conduct and by giving respect held together all coalition partners...but today's BJP considers allies as followers," said Kumar who drove the JD-U to break ties with BJP after 17-year of partnership on June 2013.
"The BJP has been unmasked in a short duration of nine months," he said. Asked for his reaction to Chief Minister Jitan Ram Manjhi's statement that he had committing 'a big mistake' by assuming that he would act as his puppet, Kumar said "he broke my faith."
He said Manjhi digressed from the JD-U programme and policies and started acting against them. "Thank God we are alert and have decided to remove him," he said.
"Manjhi in collusion with the BJP was weakening the JD-U... we took a decision against him on time otherwise the loss could have been colossal," Kumar said about his protege whom he handpicked to succeed him on CM chair after resigning in May 2014 after the party's debacle in general election.
Kumar said by providing 'hidden' support to Manjhi, the BJP stood exposed in the eyes of people and the saffron party would have to pay dearly in coming state assembly poll.