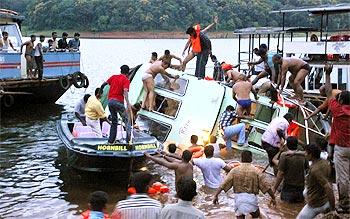 With the recovery of six more bodies, the toll in the boat mishap in Hirakud reservoir in Sambalpur district, Odisha, on Monday rose to 17.
"At least 17 bodies have so far been recovered and three more are still missing," said Special Relief Commissioner P K Mohapatra in Bhubaneswar.
However, the number of missing persons might vary, with locals furnishing additional information, Mohapatra said.
The search team had on Sunday rescued nearly 80 people and fished out 11 bodies from the water.
Besides expert scuba divers, personnel of Odisha Disaster Rapid Action Force, fire brigade, police and local divers were engaged in rescue and search operations in the vast reservoir as the place of occurrence was very deep.
An aerial search was undertaken today.
The boat was carrying nearly 120 people, members of the Lion's Club of Sambalpur, Hirakud and Bargarh, who were returning from the other side of the Hirakud reservoir after a picnic.
The state government has ordered an administrative inquiry by the revenue divisional commissioner, Sambalpur, Panchayat Raj minister Kalpataru Das said.
Congress Vice-president Rahul Gandhi, who is on a two-day visit to the state, will be visiting the area and meeting the relatives of the deceased persons, Odisha Pradesh Congress Committee President Jaydev Jena said.
Chief Minister Naveen Patnaik, who is in New Delhi, has asked Revenue and Disaster Minister S D N Patro and Finance Minister Prasanna Acharya to visit the spot.
The state government has announced Rs 1.5 lakh ex-gratia for the family members of the victims and free treatment for the survivors.
The issue was raised in the state assembly with Leader of Opposition Bhupinder Singh seeking a statement from the government.
Image used for representation purpose only