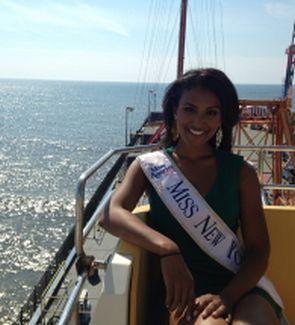 City-based relatives of Nina Davuluri, who on Monday became the first Indian-origin contestant to win the Miss America pageant, said the newly-crowned beauty queen had not forgotten her roots and still liked Indian films.
"We are all very excited. I spoke to her briefly this evening. We are very happy," Nina's maternal aunt Sasibala told PTI.
Nina's father, Davuluri Dhana Koteswara Chowdary, a doctor by profession, settled in the USA in the late 1970s and his daughter had grown up there, Sasibala said.
Sasibala said Nina visits India every summer and came to Vijayawada about a year-and-a-half back.
Nina, who wooed the judges at the pageant with a Bollywood fusion dance, likes Indian films, said Sasibala, adding that the 24-year-old had learnt classical dance.
Nina is fluent in Telugu and has not forgotten her roots, she added.
Nina, who aspires to become a physician like her father, will earn at least USD 50,000 in scholarships.
She was crowned Miss America during an event held in Atlantic City, New Jersey.
"I'm so happy this organisation has embraced diversity," she said in her first press conference after winning the crown. "I'm thankful there are children watching at home who can finally relate to a new Miss America."
Her pageant platform was "celebrating diversity through cultural competency" and Nina said she has had to dispel a lot of misconceptions about her culture through the years, such as whether her parents will arrange a marriage for her.
Nina is the second consecutive Miss New York to win the Miss America crown, succeeding Mallory Hagan.