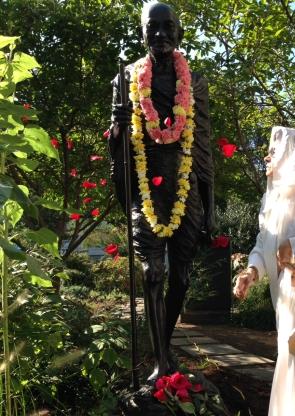 The southwest corner of Union Square in New York City saw a cluster of Indians gathering around a statue of Mahatma Gandhi on the morning of October 2, the birth anniversary of the Father of the Nation.
The crowd comprised members of an older generation and some youngsters as well, who crowded in a semi-circle around a low platform that leads to the statue, which was adorned with fresh garlands.
Consul General Ambassador Dnyaneshwar M Mulay, Ambassador Vijay Nambiar, Dr Navin Mehta of Bharatiya Vidhya Bhavan and others paid tribute to Gandhi.
"Today, it is natural to be standing in New York and celebrating Gandhi's birthday. Einstein had once said that the coming generations would find it difficult to believe that such a man, in the flesh, has walked on this earth. I would like to pay our sincere homage to the thoughts, the ideals, and the life this great man lived," Mulay said.
Mulay spoke about Gandhi's struggle to understand how a human being could lead a meaningful life that incorporates Satyam (truth), Shivam (purity), and Sundaram (beauty).
"For the first time, Gandhi could really encapsulate the entire thought, philosophy, and ideology of several centuries, since Gautam Buddha, when he said that the true weapon is truth," Mulay continued.
"Because truth is something we can't touch. We can't put it in our pocket or take it to the market. How do you feel the truth? And he said that truth resides in non-violence. That was his mantra, and it's remarkable to see that a country of India's size could join together and rise up to a man's voice -- a man who didn't have anything -- and fight the empire," he said.
In closing comments, Dr Mehta said that it was a timely moment to celebrate Gandhi in America.
As the United States government entered the first day of its shutdown, he recalled Gandhi's master negotiating skills, his ability to feel the pulse of people and work with them cooperatively.
This is a lesson that everyone in the world, not just Indians, could take away from the Father of India.