'This is against the Constitution and we will oppose it tooth and nail.'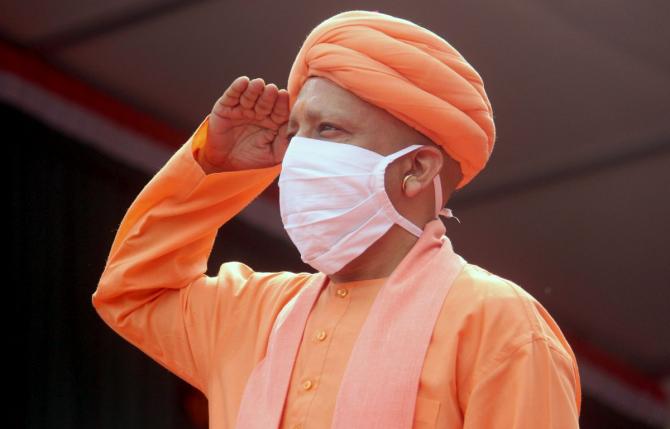 "This is a black act, this is an attack on democracy. It will curtail individual freedom. Na ismey vakil hai na daleel hai (no lawyer, no appeal)."
That is Ajay Kumar Lallu, president of the Uttar Pradesh Congress Committee, reacting to the Yogi Adityanath government setting up a special security force with powers to arrest anyone without a warrant.
"This will target in particular Dalits, Muslims and Opposition parties, that is the reason they have got this (force). This is against the Constitution of India and our party will oppose it tooth and nail. We will raise our voice against this in the assembly session and on the roads too," Lallu tells Syed Firdaus Ashraf/Rediff.com.
"This is like the Rowlatt Act of 1919. The chief minister is not bothered about the issues facing the common man of Uttar Pradesh. This can also target journalists (writing against the government) in an unconstitutional manner," warns Lallu.
"This is an attack on freedom and the Constitution of India. They want to suppress all kind of Opposition voices. And we won't let this succeed," vows Lallu.
The Congress MLA from the Tamukhi Raj constituency in Kushinagar, eastern Uttar Pradesh, has been making waves in the state for his tough campaign against the Yogi government in the state.
"I will fight. I will fight to save democracy in our country. We want to be the voice of the public in Uttar Pradesh," he affirms.
On September 3, Lallu, the Uttar Pradesh Congress chief was detained by the police in Barabanki district and sent back to Lucknow while he was on his way to Ayodhya to meet farmers following complaints of alleged arbitrariness in the compensation paid to them by the state government for land.
"People on the ground have started to feel the pinch of not having enough money in their pockets. There is large scale unemployment and people feel now they have a very uncertain future," says the Congress leader.
Lallu, who is also Congress General Secretary Priyanka Gandhi Vadra's trusted aide, and known to be a street-fighter, has been taking on the Adityanath government time and time again -- be it on unemployment or law and order.
Earlier, he hit the headlines when he took on the Bharatiya Janata Party during the lockdown when he organised buses for migrant workers to return home.
He was arrested by the state government for holding a dharna in Agra for not granting permission to buses to enter UP for migrant workers, but was released almost immediately.
He was later arrested again -- this time for allegedly forgery of documents of buses arranged by his party for ferrying stranded migrant labourers during the coronavirus lockdown. He was released on bail 25 days later.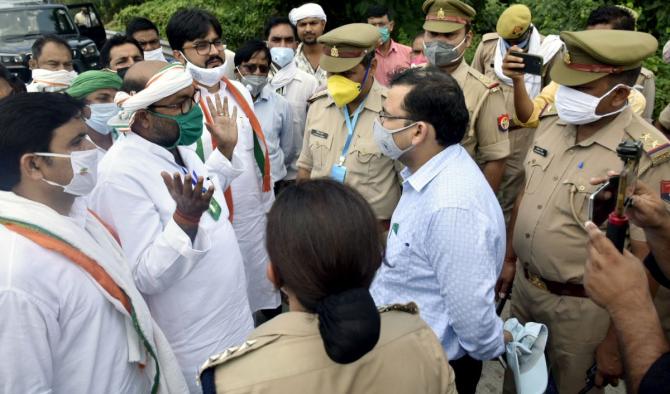 Asked what makes him take on the Yogi government head-on, Lallu charges, "The Yogi government is murdering democracy in Uttar Pradesh. Let them send me to jail."
"We are only protesting based on issues. If there is a Dalit pradhan killed in Azamgarh, we went to protest there. We went to Benares for the weavers who were facing problems due to lack of business during the lockdown," he says.
"We are only doing politics of issues, that is troubling people and the government does not even want us to do that."
Many feel that Lallu is fighting a losing battle, considering the Congress's weak position in the state; in the 2017 assembly election, the party was routed winning only seven of 403 seats; in the 2019 Lok Sabha election, it won only one seat (Sonia Gandhi's Rae Bareli).
Asked what he feels about it and he says, "We are soldiers of Rahul Gandhi and we will keep fighting on issues. We will speak about the plight of the farmers, and the youth not getting jobs."
Kanpur-based political analyst A K Verma is sceptical about the rise of Lallu in Uttar Pradesh politics. "The people of Uttar Pradesh have move beyond all this. They are not going to be impressed by such noises. These kind of noises do not make any sense to electoral behaviour as ultimately it is the work that your party does at the grassroots that appeals to the voters. This noise is only in the media."
Asked if Team Priyanka with Lallu's efforts can perform a miracle for the Congress, Verma responds, "It is too late now. The Congress has already abdicated their ground in Uttar Pradesh."