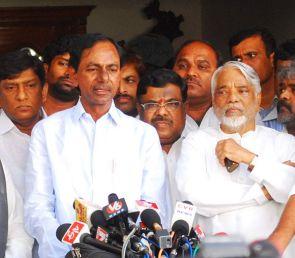 Telangana Chief Minister K Chandrasekhar Rao on Monday appointed 2 deputy CMs besides allocating portfolios.
Senior TRS leader Naini Narasimha Reddy has been made the home minister, while E Rajender has got finance.
Along with Rao, 11 ministers were sworn in by Governor E S L Narasimhan today as Telangana, the 29th state of the country, came into existence.
Md Mahmood Ali and T Rajaiah were named as the deputy chief ministers. Ali would handle revenue, while Rajaiah would handle medical and health department, an official release said.
Chandrasekhar Rao has retained the portfolios of SC, ST, BC, minorities welfare, municipal administration and urban development, energy, coal, general administration and all the un-allotted portfolios, the release said.
Rao's son K T Rama Rao has been given panchayat raj and IT, while Rao's nephew T Harish Rao would be the minister for irrigation and legislative affairs.
Pocharam Srinivasa Reddy, T Padma Rao Goud, P Mahender Reddy, Jogu Ramanna and G Jagadish Reddy have been allocated agriculture; excise and prohibition; transport; forest and environment and education, respectively.