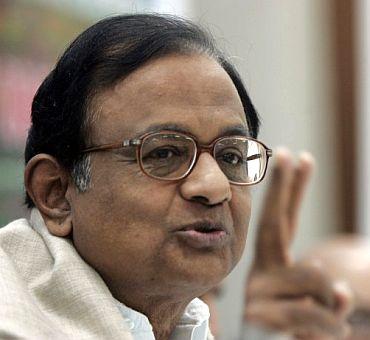 As a controversy rages over land acquisition in Uttar Pradesh, the Centre on Thursday said it has plans to introduce a bill in this regard in the next session of Parliament as there appears to be consensus on the issue.
However, Home minister P Chidambaram said law and order in UP is not a "happy situation" as farmers were protesting in many villages on the land acquisition issue and criticised the way Chief Minister Mayawati was handling the farmer protest.
But he ruled out sending a central team to assess the situation there in view of recent clashes in Bhatta Parsaul in Greater Noida where two farmers and as many policemen were killed.
"We must have a new land acquisition law. The government has drafted a new act that has provisions for better compensation, rehabilitation and other measures. But it was not possible to build a consensus on the law," he said.
"Consensus building took some time. Now we are at a point when there is a fair degree of certainty that there is a consensus on the law with some amendments," he told a press conference, the first after Prime Minister Manmohan Singh formed a Group of Ministers to brief media to counter the bad press government may face on occasions.
He said it is the government's intention to introduce a bill in the next session of Parliament and did not rule out bringing an ordinance in this regard. On the midnight drama over the arrest and release of Rahul Gandhi, who spent a day in Bhatta Parsaul on Wednesday, Union Minority Affairs minister Salman Khurshid attacked Mayawati over the way his protest was handled by the government and police.
"Whatever Rahul did was entirely right, because as a member of Parliament from Uttar Pradesh and as a leader, he has every right to be there. There was no need to interfere with it," he said.
Khurshid said Mayawati is "jittery and losing sleep" over the tremendous support and respect Rahul was getting both inside and outside party. Chidambaram expressed the hope that the Uttar Pradesh government will heed to reason and respond to the "just demands" of the people.
Ambika Soni, minister for Information and Broadcasting, said that Rahul has been able to win the hearts of the public in the state. "So many leaders went to UP but she did not say a word about them. Rahulji must have done something that she has lost her sleep," Mrs Soni said.
Chidambaram disapproved of the police lathicharge on Congress activists in Lucknow and said the loss of lives in Bhatta Parsaul was "very distressing".
"It is natural for political parties to espouse the cause of farmers. They have the right to do so," he said.
Asked whether the government has asked for a Governor's report on the state's law and order situation, he said, "I have not called for a formal report. I am keeping in touch with what is happening there."
Responding to a comment by Mayawati this morning that Rahul's protest was "mean theatre", Khurshid said that in UP, a lot of time is wasted on use of certain words in public discourse.
"I hope elegant words are used and no time is wasted," he said.
To a question whether the District magistrate of Gautam Budh Nagar shot himself in his foot, Chidambaram said there was no such report. Asked about the charge that Rahul put his own life at risk by not informing UP government about his protest and such acts were a violation of the Special Protection Group Act, he said there was no violation.
On the proposed land acquisition bill, he said, "We think we have reached a point where we can say a consensus can be reached on the bill. It is my fair my assessment. Once a final shape is given to the bill, we will brief you."
With additional reportage from PTI