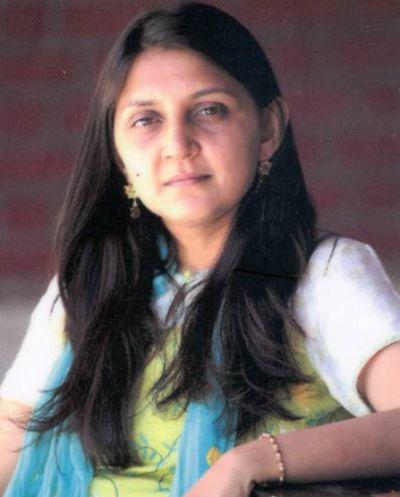 Gujarat Chief Minister Anandiben Patel's daughter Anar on Saturday rubbished Congress's allegations of taking undue favours from the state government after reports claiming dubious land dealings involving her business associates emerged.
The state Bharatiya Janata Party unit also came out in support of Anar accusing the Congress of trying to malign the chief minister and her daughter by levelling allegations against them.
"I, Anar Patel, am neither a director nor a share holder in WWRRPL (Wildwoods Resorts and Realties Private Limited), Anil Infraplus and Parshvatexchem. I don't have anything with WWRRPL, anybody can check with government authority," she wrote in a fresh Facebook post.
"Indeed, Daksheshbhai (Dakshesh Shah, who owns WWRRPL along with Amol Shripal Seth of Anil Infraplus) is my business partner but that doesn't mean that I am there in all his companies. He is a self-made businessman and is in business for the last 22 years," she wrote.
"We started a company named "Anar Projects" seven years back with business interest in retails and services. We never took any favour from any government organisation, we strictly followed all rules and regulations in all manners.
"It's disheartening that my individuality is attacked based on sheer assumptions. I believe in my moral strength not in anyone's favour," she wrote in her latest post.
This is her second Facebook post in as many days on the issue amidst demand from Gujarat Congress for the resignation of Anandiben Patel for alleged favour done to her daughter and her business partners over allotting a piece of land worth Rs 122 crore to a private firm at a throw away price of just Rs 1.49 crore in 2010.
The Congress alleged that norms were flouted to extend undue benefit to firms owned by CM's daughter Anar Patel and her business partners.
In her Facebook post on Friday also, Anar claimed that whatever she did was in "righteous manner".
"I get hurt when people have assumptions and judgments for one's morality. Truth always prevails and I abide by it with humanity," she had stated.
"My husband and I dedicated more than 22 years in social service. My husband surrendered his life for sanitation. To take care of family needs, in 2008 I did
MBA..and entered in business. I strongly believe that to do ethical business with social morality is everyone's right," her previous post had stated.
State BJP spokesperson I K Jadeja said that "such allegations are a heinous attempt by the Congress to unnecessarily drag the CM and her daughter into the issue and malign their public image".
Former state Congress president Arjun Modhwadia had on Saturday alleged that, "245.62 acres of government-own land worth Rs 122 crore in Patla village in Dhari taluka of Amreli district (near Gir sanctuary) was allotted to one Wildwoods Resort and Realities Pvt Ltd in 2010 when Narendra Modi was CM and Patel the revenue minister in Gujarat.
"In 2010, that piece of land was worth around Rs 122 crore, as the rate of one acre of land in that area was Rs 50 lakh. However, that was given at a throwaway price of just Rs 1.49 crore to the owner of that firm Sanjay Dhanak, who told the government that he wanted to build a resort there," said Modhwadia.
"Then, Dhanak sold all the shares of his company -- 49.5 per cent to Anil Infra Plus, 49.5 per cent to Parshwa TexChem and 1 per cent to Dakshesh Shah, owner of Parshwa TexChem -- in 2011.
Shah is a friend and business partner of Anandiben's daughter Anar Patel," he alleged.
The Congress leader alleged that the entire deal was aimed at giving undue benefits to Anar, who entered into the picture from back door to take the ownership of the precious land.
"This land falls in the Eco-Sensitive Zone, as it is near the lion sanctuary. All kinds of construction is prohibited in the two-kilometre periphery of this zone. However, the state government implemented this law only after the dealing completed in 2011," alleged Modhwadia.
Image: Anandiben Patel's daughter Anar Patel has been accused of dubious land dealings. Photograph: Anar Patel/Facebook