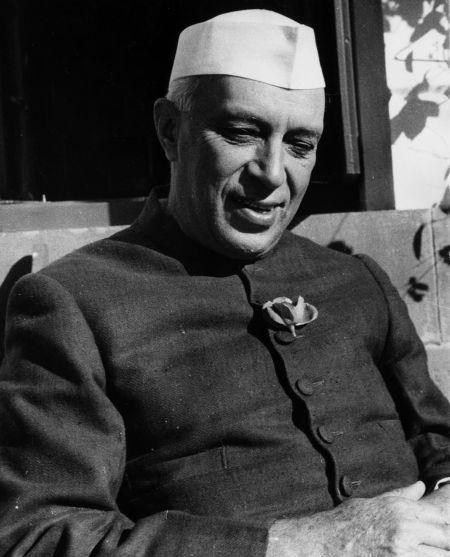 Stepping up attack against the Narendra Modi government at the Centre, the Congress on Wednesday claimed that the mischievous changes were made in the Wikipedia pages of former prime minister Jawaharlal Nehru.
Congress alleged that the changes were made from a government of India Internet Protocol address.
According to the Congress, on June 26, software that tracks anonymous Wikipedia edits reportedly traced changes that were made to entries on Nehru and his family.
One such change was about Nehru's grandfather Gangadhar: "Gangadhar was born as a Muslim by the name of Ghiasuddin Ghazi but changed his name to a Hindu Ganga Dhar to escape British clutches."
Details about his alleged affair with India's first governor general Lord Mountbatten wife Edwina were also added on the page. Additionally, there was also a change in which it said that the first PM of India was born in a red light district of Allahabad.
The Congress on Wednesday said that this 'sinister' act had been traced back to the National Informatics Centre offices.
"There was an attempt to alter the Wikipedia pages of first prime minister of India Pandit Jawaharlal Nehru, former president of Indian National Congress and his father Pandit Motilal Nehru and his father Pandit Gangadhar Nehru...What makes the case even worse that this was done from a government ID. What is even more intriguing and sinister is the fact that this attempt was done not only from a government ID and Internet Protocol with government address but was done from NIC, the National Informatics Centre or the software solution provider of Government of India," said Congress leader Randeep Surjewala.
"Will Prime Minister Narendra Modi answer to the nation how was Internet Protocol ID of the government of India and NIC was being used for this sinister malicious attempt. Will the PM and the minister in-charge answer whether such a sinister attempt was being made with their consent and concurrence," he added.
The edits were later deleted by volunteer editors of the online encyclopedia.
Image: Jawaharlal Nehru. Photograph: Satgan/Three Lions/Getty Images
-- With inputs from ANI