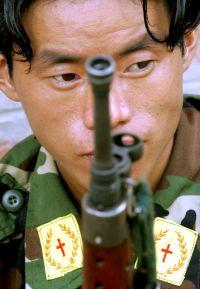 The militants accosted Prasanta Kumar, shot him, tortured him and then dumped his body at Tangla area, reports K Anurag.
A scribe of a popular Assamese Daily, Asomiya Pratidin, was shot at and tortured by suspected militants belonging to the National Democratic Front of Bodoland- Songbijit on Thursday evening at Khairabari in Udalguri district of the troubled Bodoland Territorial Autonomous District Council area in Assam.
Police said that a group of militants accosted Prasanta Kumar, 42, while he was returning home on his motorcycle. He was first shot at and forced into a four-wheeler and tortured and threatened inside the car for over two hours before he was dumped on the roadside at Tangla area.
Villagers came to the rescue of the bleeding journalist and took him to the nearby police station. He was later shifted to GuwahatiMedicalCollegeHospital. According to the attending doctors in the medical college hospital, Kumar is out of danger.

According to family sources, the armed youths introduced themselves as members belonging to NDFB-S and physically assaulted Kumar for his series of anti-militant reporting.

Meanwhile, Journalist Action Committee (Assam) and Journalists' Forum Assam have expressed shock and anguish over the dastardly incident of shooting at the journalist and demanded that the government arrest the culprits involved.
The journalists' bodies urged Chief Minister Tarun Gogoi to take stern action against the culprits so that scribes of rural Assam can report on sensitive issues without fear. "Attacks on media persons have been increasing across the country for their journalistic activities. The tendency has recently grown in lower and central Assam following the massive security operations against the tribal militants, are attacking journalists for covering anti-militant activities," said a joint statement issued by JAC and JFA.